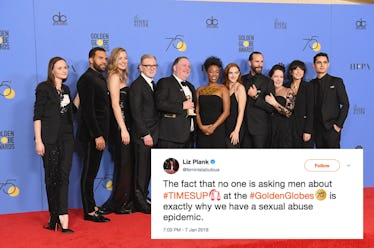 Men Were Silent About #TimesUp During The Golden Globes & Twitter Is Pissed
Kevin Winter/Getty Images
The 2018 Golden Globe Awards took a hard stance against sexual misconduct in the entertainment industry and beyond in more ways than one. All the guests in attendance tonight unanimously decided to wear black to commemorate all the brave women (and men) that have come forward and shared their stories of sexual misconduct, and many donned pins embossed with the phrase "Time's Up," the name of the initiative that's fighting sexual misconduct in Hollywood and other industries. Many women that won on Jan. 7 mentioned the phrase, but men were noticeably silent about Time's Up at the Golden Globes, and Twitter is not happy at all.
It was a big night for Hollywood, and one that won't soon be forgotten. Many of the women that won awards tonight took their stage time and used it as a platform to draw attention to this important cause, which calls for reform in the entertainment industry and all other industries where women feel marginalized and preyed on. But although many male nominees and guests wore the "Time's Up" pin tonight, not a single winner chose to mention Time's Up or the sexual misconduct that is prevalent in Hollywood in their acceptance speeches. And, per usual, Twitter took notice.
Although none of the male Golden Globe winners and presenters tonight chose to mention the sexual misconduct allegations that have been rampant as of late, the women certainly did not shy away from the issue. Most notably, Oprah gave a rousing and once-in-a-lifetime speech when she accepted the Cecil B. DeMille Award. She capped off her moving speech by speaking to all the young girls watching the show when she said,
I want all the girls watching here, now, to know that a new day is on the horizon! And when that new day finally dawns, it will be because of a lot of magnificent women, many of whom are right here in this room tonight, and some pretty phenomenal men, fighting hard to make sure that they become the leaders who take us to the time when nobody ever has to say 'Me too' again."
Barbra Streisand also decided to use the stage to take a stage against gender inequality and sexual harassment as she presented the Best Motion Picture - Drama winner. As the announcer mentioned that Streisand is the only female to win the Golden Globe for Best Director, she repeated that fact with sheer astonishment. She won in 1984 for the film Yentl, and was in disbelief that it's been decades since a woman has received the honor. "Time's up!" she roared, which was met with tons of cheer and applause.
It does seem odd that men would elect to wear the pins in solidarity, yet omit actually mentioning and addressing the problem of sexual abuse in the workplace when the opportunity presented itself. Twitter users clearly were not pleased one bit, and it's an important detail to notice and something to take away from tonight. Despite the fact that men are taking a stand, there still remains a tendency to remain silent and not actually address this issue head-on. Wearing a pin just doesn't seem like enough, and it's an important note that Twitter users clearly wanted to make.
But despite the relative silence from men at this year's awards, it was still a night that shone the spotlight on an issue that's been swept under the rug for far too long. So a thank you to all of the amazing speeches and declarations of "we're not gonna take it anymore" that flooded the red carpet and the stage tonight. It really hit the mark.