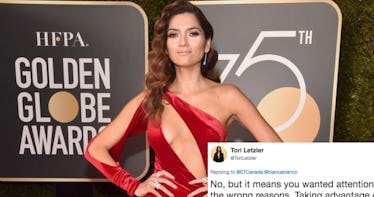 Blanca Blanco Responds To The Golden Globes Backlash & Twitter Isn't Happy
Alberto E. Rodriguez/Getty Images/Twitter
I have to admit: I kind of expected someone to skip the dress code at the Golden Globes, and it looks like that person is Blanca Blanco. While most of Hollywood's famous actresses showed up to the Golden Globes on Jan. 7 wearing all black as a protest against sexual harassment and assault, Blanco showed up to the event wearing a red dress — and caught total backlash. But her self-defense isn't helping anything, as even more people are p*ssed about Blanca Blanco's response about wearing red to the Golden Globes.
After some major criticism about her fashion choice on Sunday night, Blanco clapped back at her critics by saying that she chose the stand-out dress for a simple reason — she loves red. On Jan. 8, Blanco told Fox News,
I love red. Wearing red does not mean I am against the movement. I applaud and stand by the courageous actresses that continue to break the cycle of abuse through their actions and fashion style choices. It is one of many factors leading women to a safer place because of their status. I am excited about the Time's Up movement; true change is long overdue.
She also denied claims that she disregarded the "Time's Up" movement, and called out her critics for shaming her. She continued,
It hurts my feelings, but I guess it's part of being in our industry. We have people who appreciate you and others that don't. ... Shaming is part of the problem.
Blanco was responding to the criticism she got for wearing a low-cut, plunging red dress to the annual event. Though it's a beautiful dress, many called her out for apparently disregarding the #MeToo and "Times Up" movements, which was popularized following multiple sexual misconduct allegations that rocked the entertainment industry in recent months. Before the awards ceremony, many A-list actresses (and actors) announced that they would be wearing all black as a form of protest against sexual harassment and assault in the industry... which means that a red dress really stood out.
And with such a blatant difference, some people were not having her reasoning.
Some bashed her for being an opportunist who capitalized on the opportunity not to wear black.
Isn't there a saying in Hollywood that any kind of attention is good attention? Perhaps she has a movie coming out some time soon...
Like many people I was thoroughly excited to see all the celebrities who wore black to the Golden Globes. I knew how big the "Time's Up" movement was, and love to see groups sticking together for issues that I resonate with. So as the red carpet coverage started, I sat wide-eyed in front of my television, waiting to see the best-of-the-best all-black looks. However, when Blanco arrived on the red carpet, dressed in a bright red gown and looking like she totally missed the memo, it kind of ruined the moment, at least for me.
But hey, not everyone agrees.
Some stuck up for Blanco, saying she should be able to do what she wants.
Some even said Blanco stole the night.
I understand what these people were trying to say, but it's more complicated than that. As if the conversation around sexual harassment and assault in Hollywood (and other industries) hasn't already been difficult enough, Blanco seemed to disregard the choices of her female colleagues with her dress choice. Which is a problem.
But the moral of the story? Everyone has an opinion.
Blanco looked amazing, but I think this event can be chalked up to a phrase we've all heard countless times before: "There's a time and a place for everything." Hopefully at the next awards show, someone will tell her that she just can't get away with stunts like this.