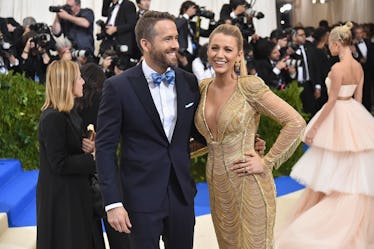 Blake Lively Expertly Trolled Ryan Reynolds About "Keeping Secrets" From Him & OMG
Mike Coppola/Getty Images Entertainment/Getty Images
It seems like Blake Lively and Ryan Reynolds are continually proving that they are, in fact, relationship goals. I'm not talking about some kind of coordinated campaign to prove their greatness as a couple, but they are both naturally experts at wielding words on Twitter that is just sort of happens. Another hilarious example of the perfect-for-each-other pair roasting one another on Twitter was gifted to the world on Saturday, May 26. Blake Lively's response to Ryan Reynolds trolling her on Twitter was almost too good, and it will seriously make you love this couple even more.
It all started with a promotional tweet for an upcoming movie from Lively on Saturday, May 26. Lively tweeted a teaser trailer for her film, A Simple Favor, and then her husband retweeted it with his trolling caption. Reynolds wrote, "You can tell me. We're married. You once drove me to the hospital when you were giving birth. So... what the f*ck happened to Emily?"
Whoa. It sounds like Reynolds really wants to know what happens to Emily, Lively's character in the yet-to-be-released film. He also included the fun tidbit that a pregnant Lively apparently drove him to the hospital while she was in labor (!!!).
Lively didn't address the rockstar move of driving her very pregnant self and her husband to the hospital, but she did reply to Reynolds with a tweet that said, "Oh darling, of all the secrets I'm keeping from you, this should be the LEAST of your concerns... trust me." LOL!
OK, I'm ready to declare Lively as the troll champion in this latest Lively-Reynolds Twitter showdown.
Of course, if you're familiar with the couple's unconventional Twitter banter, then you know the "secrets" Lively is apparently "keeping from" Reynolds are nothing to start printing salacious tabloid covers about. The only cover that needs to be printed about this interaction is the one that gives credit where credit is due for Lively's knockout tweet.
Now, Reynolds did a respectable job trolling his wife in his tweet, and he also revealed that Lively is even more amazing than you ever thought possible when he shared the tidbit about Lively driving them both to the hospital when she was in labor. If that fun fact holds up, I maintain that it forever swings the scales in Lively's directions when it comes to friendly Twitter wars in the Reynolds-Lively clan.
Recently, in another move to promote her film, A Simple Favor, coming out in September 2018, Lively disappeared from Instagram on April 30. That meant she also unfollowed a lot of accounts, including Reynolds' Instagram account. Reynolds was in Australia when the not-so-shady unfollowing took place, and the Deadpoool star hilariously reacted to it on an Australian radio show, Smallzy's Surgery,
I'm very sad about that. Definitely stinks. It's a terrible way to find out that I've been kicked out of the house, to be honest. Absolutely terrible. I don't know where rage like that comes from.
Now, you know Reynolds is just joshing around, but an unfollow on Instagram does sound like a very 2018 way to tell someone, "We're done."
Luckily for Reynolds-Lively fans everywhere, the couple, who married in 2012, seem to keep their love alive thanks, in part, to good social media ribbing every now and again. They also have two daughters together, James and Ines, who are 3 and 1, respectively, who are sometimes featured in their very funny parents' Twitter roasts.
Like back in January when Reynolds tweeted this gem about finding money in your pocket and jokingly "discovering" his "second daughter."
Don't worry, I'm sure Ines has been gifted with the same witty-banter gene as her parents, so there might be a better-late-than-never roast response once she grows up.
In the meantime, Lively has been putting her all-in-good-fun sharp tongue to use, too, like in December 2017, when she shared this photo on Twitter of Christmas cookies that were apparently decorated by Reynolds.
Lively skipped the praise of his work, and instead wrote, "Like they've never said, like never, ever... @VancityReynolds is the next @MarthaStewart."
Even though I am very much here for a good Twitter showdown between Reynolds and Lively, the couple is just as talented at showing their love and admiration for each other. Lively did an interview with AsiaOne in November 2017, and she revealed that Reynolds is her "best friend," and she knew from the first time they met that "...we would be together forever, and that he would be mine. That was it."
In February 2015, Reynolds gushed about Lively on The Late Show With David Letterman following the birth of their first daughter, James. He shared, per People, "...when we had that baby, I fell more in love with my wife than I'd ever been in my entire life."
Alright, I think that's enough couple perfection for one day. Plus, when it comes to Lively and Reynolds, you know it's only a matter of time before they expertly (and somehow adorably) troll one another on Twitter again.