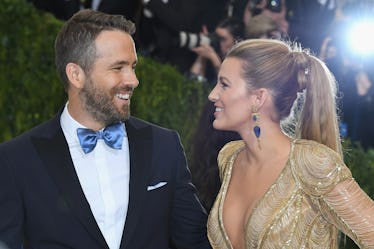 This Is How Blake Lively Knew Ryan Reynolds Was The One & It's Too Sweet
Dia Dipasupil/Getty Images Entertainment/Getty Images
Few celebrity couples give the people exactly what they want like Blake Lively and Ryan Reynolds. There's something magnetic about the way these two are around each other that has pretty much everyone convinced they're as ride-or-die as they come. So naturally, we're all probably wondering how Blake Lively knew Ryan Reynolds was the one. Spoiler alert, the story is pretty much as cute and as "meant to be" as it gets.
Way back in 2010, Lively and Reynolds actually met on set while filming the Marvel flop of all flops, Green Lantern. And while an award show sweep certainly wasn't in the cards, little did these guys know that something even better was on the horizon: Love!
In an interview with AsiaOne, lively admitted that she knew from the first moment she met Reynolds that he was "the one."
He's my best friend. I just knew the first time I met him that we could be best friends for the rest of our lives, whether there was chemistry or not. I knew right away that we would be together forever, and that he would be mine. That was it.
In Marie Claire's July 2016 issue, she talked about him even further, saying, "I knew he would always be my best friend for my whole life. That was the biggest thing to me. I'd never known anything like the friendship that I had with him. I could like him as much as I loved him." I'm not crying, you're crying.
When they first met, Lively was still dating Gossip Girl co-star Penn Badgley, and Reynolds was still married to actress Scarlett Johansson. But what's meant to be is meant to be, and just over a year later, she split from Badgley and Reynolds finalized his divorce from Johansson. They then went on a double date, only, by some hilarious twist of fate, they were both technically on dates with different people.
"We were buddies then," Reynolds told Entertainment Weekly's SiriusXM show. "I remember it was funny because for about a year after Green Lantern had come and gone and we were both single. We went on a double date. She was on a date with another guy and I was on a date with another girl."
Like, seriously? Could this get any juicier? Apparently not because Reynolds notes that the date ended up being pretty awkward since their chemistry with one another was so off the charts.
"We were just like fireworks coming across," Reynolds gushed.
Well, apparently those were some pretty lit fireworks. So lit in fact, that it was only a year later in September 2012 that the duo decided to tie the knot. In an October 2012 interview with Allure, Lively described her feelings as just "so peaceful. I've never been happier in my life."
Two gorgeous kids later, it's easy to see why these two have such a great relationship: They know how to have fun. And I mean, how could a pair that has perfected the art of trolling each other via social media not stand the test of time?
Remember that time he jokingly cropped her out of her own birthday post on the 'gram? Thankfully, she knew just how to clap back, posting a photo of Ryan Gosling (whom Reynolds gets confused for) to her own Instagram. At least they fight fair!
While anything seems possible after the shocking Channing Tatum and Jenna Dewan split, all we can do is enjoy the good times, protect them at all costs, and hope there's someone up in the sky who ensures these two spend the rest of their days lovingly making fun of each other for all the world to enjoy.
Check out the "Best of Elite Daily" stream in the Bustle App for more stories just like this!