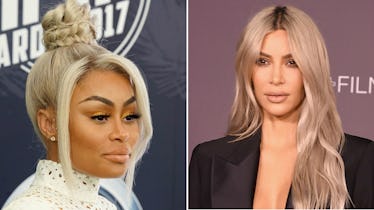 Here's How Blac Chyna Responded To Kim Kardashian Welcoming Her Third Baby
Bennett Raglin/Getty Images, Kevin Winter/Getty Images
As any loyal KUWTK fan can tell you, there is no love lost between the Kardashian family and Blac Chyna. See, Chyna is Rob Kardashian's ex — the two were briefly engaged back in 2016 — and despite their break-up, they now share a one-year-old daughter named Dream. Even so, the model has a complicated history with the K-crew. Not only is she Kylie Jenner's former boyfriend Tyga's ex, she also sued the family for attempting to destroy her career. She also had a less-than-amicable split with the father of her daughter. But even so, Blac Chyna's reaction to Kim Kardashian's third baby was actually really sweet.
Apparently, the birth of a baby trumps whatever bad feelings Chyna has been harboring. Because when photographers from The Blast caught up with her while she was busy running errands in Los Angeles, they asked the camo-clad reality star if she had any feelings about Kimye's latest addition, born via surrogate on Jan 15. And much to her credit, Chyna opted to take the high road.
"It's always a blessing," she said. "They deserve blessings."
Aw. I'm kind of loving this softer side of Chyna. Maybe she's excited for Dream to have another girl Kousin in the mix? I mean, can you even imagine what kind of hand-me-downs that kid is gonna get? I am actually really jealous.
At the age of 4, North West is already a verfied fashion icon. From the minute she was born, she's been accustomed to rocking designers like Lanvin, Givenchy, Hérmes, and, of course, Yeezy. And who could forget Christmas Eve last year when she rolled up to Kris Jenner's annual Christmas Eve party in custom Alexander McQueen?
Not to sound shallow, but I would totally throw a little congratulations toward my nemesis for chance to score cast-offs like these, wouldn't you?
And speaking of North, a source told People magazine earlier this week that after Kim and Kanye watched her suffer from jealousy issues when their son Saint was born two years ago, they are now determined to make sure both of their kids feel extra-special this time around.
"Kim wants to make sure North and Saint have a lot of extra attention and feel included as well," the source explained. "It's a big deal for everyone to have a newborn in the family. Kim and Kanye are at home with the baby. They are so happy. They have had some visitors, but mostly Kris and Kourtney are helping out."
Sounds like it's an all-hands-on-deck situation at the Kimye compound! Kim is super lucky to have both a hands-on mama and a bunch of sisters around to pitch in. Even so, KKW still wasn't leaving anything to chance, and she doubled-down by buying North a puppy back in June and then letting her choose the name.
"Kim thought it was a good idea for North to take care of a puppy," a source told People at the time. "It could prepare her for a baby sibling, too."
Smooth move, Keeks! Of course, choosing a name for their baby girl has proved a little more difficult. Because while the family of five seems to be settling in nicely, their new addition still doesn't have a name.
On Jan. 17, Kanye was spotted at his office in Calabasas, California, where a photographer asked him about the moniker.
"Can't think of a name, you know what I'm saying?" the dad of three responded with a big smile on his face.
The photog then offered up his own possible solution: "Donda," he shouted, which is the name of Kanye's late mother.
Kanye's response before walking away? "That's fire!"
So will they use it? Stay tuned, dolls! As for Chyna, maybe a new baby in the family can mend some of the past issues. Stay tuned for that, too.