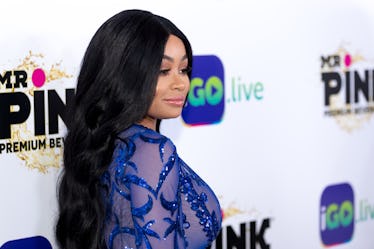 Blac Chyna Is Reportedly Having A Baby With Her Teenage Boyfriend & Oh, The Drama
Greg Doherty/Getty Images Entertainment/Getty Images
There's never any shortage of celebrity drama in this world, but the most dramatic celebrity gossip is seemingly always related to the Kardashian-Jenner family. So when I found out that Kardashian ex Blac Chyna is reportedly pregnant for a third time, was I surprised? Absolutely not. But when I read into the details of this new relationship and supposed bun in the oven, it was truly too much for me to handle.
UPDATE: TMZ reports Blac Chyna is not pregnant with her third child. However, TMZ says Blac Chyna does want more kids in the future and "isnt ruling anything out." Elite Daily reached out to Chyna's team for confirmation on the report but did not hear back by the time of publication.
EARLIER: Page Six reported on April 30 that Blac Chyna is in fact expecting her third child with her new boyfriend, 18-year-old-rapper YBN Almighty Jay. Chyna, 29, already has two children — 5-year-old son King Cairo with rapper Tyga, and 17-month-old daughter Dream with reality star Rob Kardashian. Chyna and Jay supposedly met on Christian Mingle and Chyna's reportedly about three months into her pregnancy, according to In Touch. Chyna's rep told Page Six in an email statement that they "only handle appearances and don't ever comment about my clients personal lives" — and that they couldn't comment on the reports. Elite Daily reached out to Blac Chyna's reps for comment, but did not hear back at the time of publication.
Following rumors from late February 2018 that the two are an item, Chyna and Jay confirmed their relationship on March 1 after being asked by a TMZ reporter if the two are officially dating — to which Chyna responded with, "Yeah. We're, like, dating." The young rapper was less coy when he posted an Instagram shot of Chyna with the caption, "Will You Marry Me?" along with an emoji of a diamond ring on April 10.
That's definitely sweet, but Chyna's past relationship history is more than a little salty, especially where it's tangled up with the Kardashians. If you know anything about the Kardashian-Jenner family, you know all about the drama that surrounded her previous two relationships.
Chyna's first son King came from her relationship with rapper Tyga. The duo began dating sometime in 2011 and their son was born on October 12, 2012. But when the two called it quits in 2014, Tyga started dating the youngest Kardashian-Jenner sister, Kylie. The two were spotted hanging out more frequently and appeared on each others' social media accounts more often beginning in 2014, but denied the dating rumors for close to a year. Once the reality star turned 18 in August 2015, the two made their rumored relationship Instagram official.
Enter again Blac Chyna, who then reportedly began dating Jenner's older half-brother Rob Kardashian in January 2016, after posting an Instagram of the two of them embracing. The drama that ensued once Chyna and Kardashian began dating is way too much to explain in one paragraph. Long story short, Chyna gave birth to their baby girl Dream on November 10, 2016. But there was plenty of drama between these two both before and after their daughter's birth — including an engagement, multiple breakups, accusations that Chyna cheated, leaked nude images of Chyna, and a restraining order. It was a wild ride.
So Chyna has had enough drama with both of her former flames to deal with in one lifetime. And potentially adding a third child into the picture definitely won't alleviate any of the parenting pressure she faces. According to Hollywood Life, a source says that both Tyga and Kardashian are not pleased to hear about these rumors that Chyna is pregnant again.
Whether these rumors are true or not, you can bet that Chyna and her new boyfriend (and maybe future child) will surely be making more headlines as their relationship continues to develop. I'll be keeping an eye out.