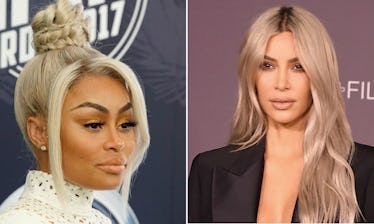 Blac Chyna Reportedly Said Kim K's Valentine Was A "Mean Girl Gift," So That's Awkward
BENNETT RAGLIN/GETTY IMAGES, KEVIN WINTER/GETTY IMAGES
On Valentine's Day, it's relatively common for people to shower their friends and loved ones in an array of gifts, chocolates, candy hearts, and love notes. And, if you're Kim Kardashian West, this slew of presents might also include a bottle of your hottest new perfume, which is kind of the dream. But in classic and fiery Kim K style, everyone's fave Kardashian not only sent these "heartfelt" Valentines to her friends and family, but also to her frenemies. Upon receiving Kim's chocolates and perfume, Blac Chyna claims Kim Kardashian's Valentine was sent with bad intentions.
Sources apparently told TMZ that Chyna was super upset and offended upon receiving a Valentine from Kim K. Since the two are on the outs, Chyna reportedly told TMZ's source that Kim is using a Mean Girls strategy, not only to advertise her new scent, but also to further aggravate a broken friendship. Sources continue to say that Chyna thinks that Kim is a "very cruel, huge bully." (Elite Daily reached out to Blac Chyna's team for confirmation on the source's story, as well as the report that Chyna called Kardashian West a "bully," but did not hear back at the time of publication.) And although it's undeniably a diss to send your enemy one of your products, a Valentine heart box including multiple giant chocolate hearts, as well as a nice bottle of perfume, really isn't the worst thing to get in the mail, in all honesty.
Right?
Recently, on Snapchat, Kim posted a picture of a well-organized, color-coded list of people whom she was sending Valentines. The list was artfully divided into columns of friends, such as Chrissy Teigen and Paris Hilton, loved ones, such as Kris Jenner and her beloved sisters, and, last but not least, her "haters." And among commonly known enemies, such as T-Swift, Pink, Sharon Osbourne, and Chloe Grace Moretz, is Rob Kardashian's ex, Blac Chyna. Just by glancing at the photo of Kim's extensive Valentine's list, guessing who was considered a "hater" was like, really, really simple.
In response to Kim's divided Valentine's list, Chyna's sources have told TMZ that she (somehow) totally disagrees with the "hater" label. Not only is Kim the aunt to her daughter, Dream, but also, Chyna claims that she would never try to soil Kim's image. We're guessing this is a salty response, in relation to to the fact that Kim has supposedly tried to sabotage hers. Chyna claims that the entire Kardashian family has tried to "ruin her life," after her major breakup with Rob, per TMZ, and that they have tried to cancel "Rob and Chyna," after the two parted ways. As usual, major drama going down in the Kardashian household.
Apparently when it comes to any of the kids in the Kardashian clan, however, Chyna is a total softie (and it's really sweet). While Chyna was out running errands in Los Angeles, photographers fromThe Blast asked her about Kimye's surrogate newborn, Chicago, and Chyna responded, "It's always a blessing. They deserve blessings." Which for real, is so, so kind, despite their on-going issues.
So, it's pretty obvious that there are hard Kardashian-Chyna feelings revolving around Chyna's former engagement to Kardashian brother, Rob. While Kim K maybe had salty intentions in sending Chyna a PR box of chocolates and designer perfume, I'm kind of feeling like it's a major waste of time to get upset about it. (For what it's worth, Kardashian West did say that she was just sending the Valentine's out to everyone on her list because they all deserve love.) Because, if you take a step back, chocolate and perfume is a pretty awesome freebie, even if it's from a "hater." And, real talk: anyone about to get involved with any of the Kardashians should probably be aware of some major drama coming their way. It really is just impossible to keep up with them, isn't it.
Check out the entire Gen Why series and other videos on Facebook and the Bustle app across Apple TV, Roku, and Amazon Fire TV.