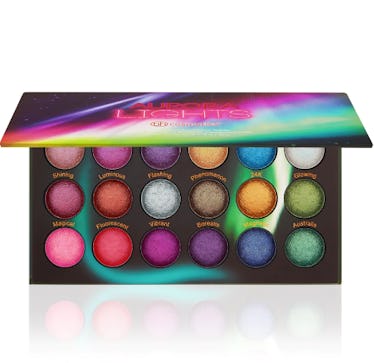 BH Cosmetics' Aurora Lights Palette Is Just As Pretty As The Northern Lights & It's Less Than $20
BH Cosmetics once again proves to be masters of creating affordable, extremely pigmented, eyeshadow palettes with the launch of BH Cosmetics' new Aurora Lights Eyeshadow Palette. With 18 new shades, the palette continues to add to the brand's growing list of innovative makeup offerings, all of which provide your eyelids with bright, metallic hues that are surprisingly wearable.
On their Instagram, BH describes the palette's variety of 18 shades as "a spectrum of celestial hues," as it ranges from swatches like "Ombré" (an iridescent white) to "Magnetic" (a richly-pigmented, shimmery, navy blue). While all of the high-shine shimmers and bold shades are obviously anything but neutral, all of the colors in this all-star palette are suitable for everything from defining your crease and blending to lining and smudging.
The Aurora Lights Eyeshadow Palette ($18, bhcosmetics.com) is inspired by Aurora Borealis (aka The Northern Lights), which, according to the Northern Lights Centre, is a magnetospheric occurrence that happens "as a result of collisions between gaseous particles in the Earth's atmosphere with charged particles are released from the sun's atmosphere." The lights can materialize and be seen in many forms, "from patches or scattered clouds of light to streamers, arcs, rippling curtains or shooting rays."
The Northern Lights are typically pale green and pink, which is made clear with the palette's dominant shades of various pink and green hues. However, shades of red, yellow, blue, and violet have also been spotted in the actual Aurora Borealis, which explains the extensive range of the rest of the palette. The extraterrestrial inspiration is made clear, not only with the shadow hues, but with the celestial packaging as well. The cover of the palette features powerful ultralight beams that look just like the real Northern Lights.
While here on earth, you can only see the Northern Lights from places near the Polar latitudes (like certain parts of Iceland, Greenland, Alaska, Canada, Sweden, Finland, and New Zealand), you don't have to travel that far to recreate out-of-this-world lewks that resemble the phenomenon. You can simply head over to BH Cosmetics' website to cop their stellar new launch that is available only online, as of right now, with no word on if this palette will pop up through other retailers.
Along with BH's Galaxy Chic, Solar Flare, and Supernova Eyeshadow Palettes, The Aurora Lights Eyeshadow Palette rounds out the "BH Galaxy Fam," adding even more other-worldliness to the collection's cosmic range of shades. But what's more unearthly (and unheard of) than the collection's vast range of rich shades is that each palette is extremely affordable. With each palette featuring around 18 different shades, the total price of each palette comes out to $18 — about a $1 a shade. But of course, that's nothing new for BH. This collection joins the likes of the equally-affordable BH Cosmetics Festival Collection and repeatedly sold-out Zodiac Eyeshadow Palette, all universally designed with the bold, colorful consumer in mind.
In comparison to its Galaxy Collection counterparts, the Aurora Lights Eyeshadow Palette appears to offer the richest, boldest shades thus far. The Solar Flare Eyeshadow Palette boasts a range shimmery bronzes, golds, and nudes, while the Galaxy Chic Eyeshadow Palette contains marbleized reds, blues, and purples. The Supernova Eyeshadow Palette offers a selection of lighter shimmers, ranging from white to black, with pink, blue, and green hues in between.
When BH announced the new launch via their Instagram account, their cult-followers came out in the masses (of the post's comment section) and expressed their immediate, love-at-first-sight obsession with the new palette. "THAT RED SLAYS" commented one user, "...We Coppin' IDC", said another. Countless others noted how they needed the new drop to finish off their "BH Galaxy Collection."
So whether you're a long-time follower of BH Cosmetics, or you're new to planet Earth and are just hearing about the bold, affordable, and cruelty-free brand, you probably want to head over to their website to snag the Aurora Lights Palette before it becomes the latest product to sell out.