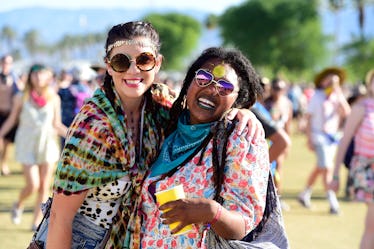 BH Cosmetics Is Dropping A Festival Makeup Collection & It's Way Cheaper Than Coachella Tickets
Frazer Harrison/Getty Images Entertainment/Getty Images
The Weeknd. Beyonce. SZA. St. Vincent. Alt-J. Odesza. Portugal the Man. What do all of these bands and artists have in common besides being some of my favorite musical acts ever? They're all playing at Coachella this year. Yes, the lineup is stacked. And thanks to BH Cosmetics' festival collection, which was just teased earlier this week, you'll be able to shine as brightly as all of them out in the desert.
I've only been to Coachella once and was with my ex-boyfriend and all of his UCLA frat brothers (cool beauty looks were not a priority), but I still remember witnessing insane displays of artistry when it came to fashion, hairstyles, and makeup, alike. Girls and guys were decked out in the coolest of looks — my favorites walked the line between Mad Max and bohemian flower child — and braids, buns, and body art were on a whole new level. Despite the mid-90s temps and occasional sand-nado, fans were showing up equally as much for the tastemaking as they were for the music.
Festival style and beauty allows people to be outrageous, over-the-top, and experimental, which is why I love it so much. Even beyond Coachella, at festivals like Burning Man, AFROPUNK, Electric Forest, Panorama, and more, attendees go all in with their aesthetics. So it makes sense, then, that beauty brands, in particular would want to create collections to inspire and excite their free spirited fans, which is exactly what BH Cosmetics has done.
Earlier this week, @trendmood1, a beauty industry insider, teased the collection with a photo on both its Instagram and Twitter accounts. Featured in the picture is a box emblazoned with the silhouettes of a ferris wheel (iconic to Coachella) and palm trees against a sherbert sunset, and hashtags reading #bhcosmetics and #bhfestival. "Surprise!!! 🙀🙌🏼 Who is ready for #Coachella Season 2018 🌴🌸 and a NEW! #Collection by @bhcosmetics 🚨#BHFestival 🌄 includes 8 items!!!" reads the photo caption.
According to the post, the Weekend Festival collection will include a 20-shade eyeshadow palette, which will retail for $18; a 10-piece brush set, which will retail for $24; and, the best part, six shades of eyelights (so, highlights for eyes?), which will retail for $7 each. Although no sneak peek of the palette itself was given, I'd imagine it would feature an array of bright hues and possibly some metallics. The eyelights are also a partial mystery, but from the photo I can see that one of the shades is an azure blue, with the others looking to be a bit earthier and darker.
So, when does it drop? That's the tricky part. The palette and brush set will be available on the BH Cosmetics website on April 6, which is a week before the first weekend of Coachella starts. The eyelights, on the other hand, will be released on April 20, which is smack dab in the middle of the second weekend of Coachella. Bummer? Sort of. But honestly, it's a great excuse to buy tickets to a later festival in order to be able to wear the eyelights in their intended setting.
As pointed out by Revelist, BH Cosmetics have released an occasion-specific product before — its Take Me Back to Brazil eyeshadow palette, which was inspired by Rio de Janeiro's iconic festival. Featuring exceptionally vivid pigments, it completely encapsulated the vibe of the event, so I'm confident this new festival collection will be no different.
While you await the collection's drop, I'd suggest looking around at some festival beauty inspiration so you know what type of look you want to go for come the big weekend. Remember to avoid culturally appropriative makeup, but otherwise, let your face be your canvas.