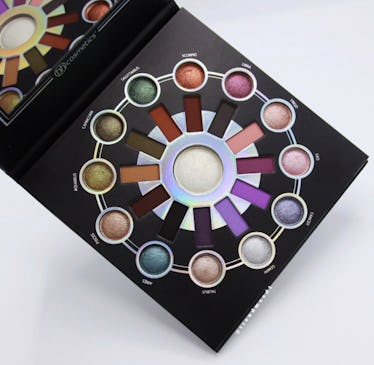 This Zodiac Eyeshadow Palette Turns Each Sign Into A Celestial Beauty
Your zodiac can tell someone a lot about you, and vice versa. Some would argue we all sport our astrological signs on our sleeves, conveying our position in the universe through our personality traits. But if you really want to rep your sign, BH Cosmetics' zodiac eyeshadow palette is here to put stars in your eyes.
BH Cosmetics is known for their outrageously-pigmented palettes and affordable prices, and their new eyeshadow kit combines the best of both worlds (as well as the celestial world). It features 24 total eyeshadow options, specifically two per zodiac sign, one matte and one shimmer. But that's not even all: In the center of the palette lies a universal highlighter, literally and figuratively, designed to complement any skin tone. Because it's sold as one product and not individual pans, the company is inviting you to dip into the shades for every sign. You can almost think of it as a mood palette, and pick a hue based on what sign you're feeling the most like on any particular day.
The artful palette is available for purchase on the BH Cosmetics website starting Nov. 13. The early bird promotional price is $20 (that's for all the Aries and Tauruses out there) and will eventually rise to $23 for the slow pokes (that means you, Cancers and Virgos). Ready to dive in and see what colors the cosmos have in store for your sign?
The popular Instagram account DupeThat was one of the first to get the word out about this stellar launch, writing, "@bhcosmetics ZODIAC palette coming November 13th! SWIPE ➡️ for close ups! It's here so I'm a Taurus Aries Cusp! What's your sign?!"
The star-bright highligher is front and center, surrounded by the matte and then shimmery shadows for each sign. Apologies to any of you who identify as an Ophiuchus, but BH Cosmetics chose to follow the initial calendar and include only the 12 OG star signs.
As you scroll through the above post, you'll see that Virgo, Leo, Cancer, Gemini, Taurus, and Aries are inspired by cool, almost extraterrestrial chroma. The matte hues for those signs have purple undertones, Cancer and Gemini in particular with alluring, bright violets. Those same six signs are also bestowed with out-of-this-world metallics and a silver sheen.
On the other side of the spectrum, Aries, Pisces, Aquarius, Capricorn, Sagittarius, and Scorpio are represented by matte shadows with a more earthly inspiration. The beautiful browns for these signs are accompanied by gold-toned sparkle shades that I can't wait to try out.
Another source chronicling this upcoming cosmic gift is beauty news account TrendMood1, who noted, "@bhcosmetics is celebrating the #Holidays2017 ❄️✨ with the NEW #Zodiac#Palette !! It's all about the star signs....There is a mix of baked super metallic beautiful!!!!! Eyeshadows on the outer circle and in the inner circle has all matte eyeshadows !! AND in the middle baked #highlighter which u can also use as a transformer #LimitedEdition." Thankfully, we can see what all the products look like on a real person - stay tuned for an expanded offering of skin tones rocking the pigments.
In addition to the makeup, the palette's packaging boasts a mirror so you can actually look at your beautiful face while applying your hue of choice. Although, I'm not sure how you'll choose! I'm a Scorpio, but those Libra shades are giving me life. Since I'm on the cusp between those two signs, I'm sure some cosmic force could have predicted I would like both.
My universal advice: Don't limit yourself to only your main astrological label, look into your moon and rising signs, too. But also, just try them all out! Mix and match the matte and shimmer shades by sign - you'll be brows deep in heavenly possibilities. With this palette, the cosmos are your oyster.