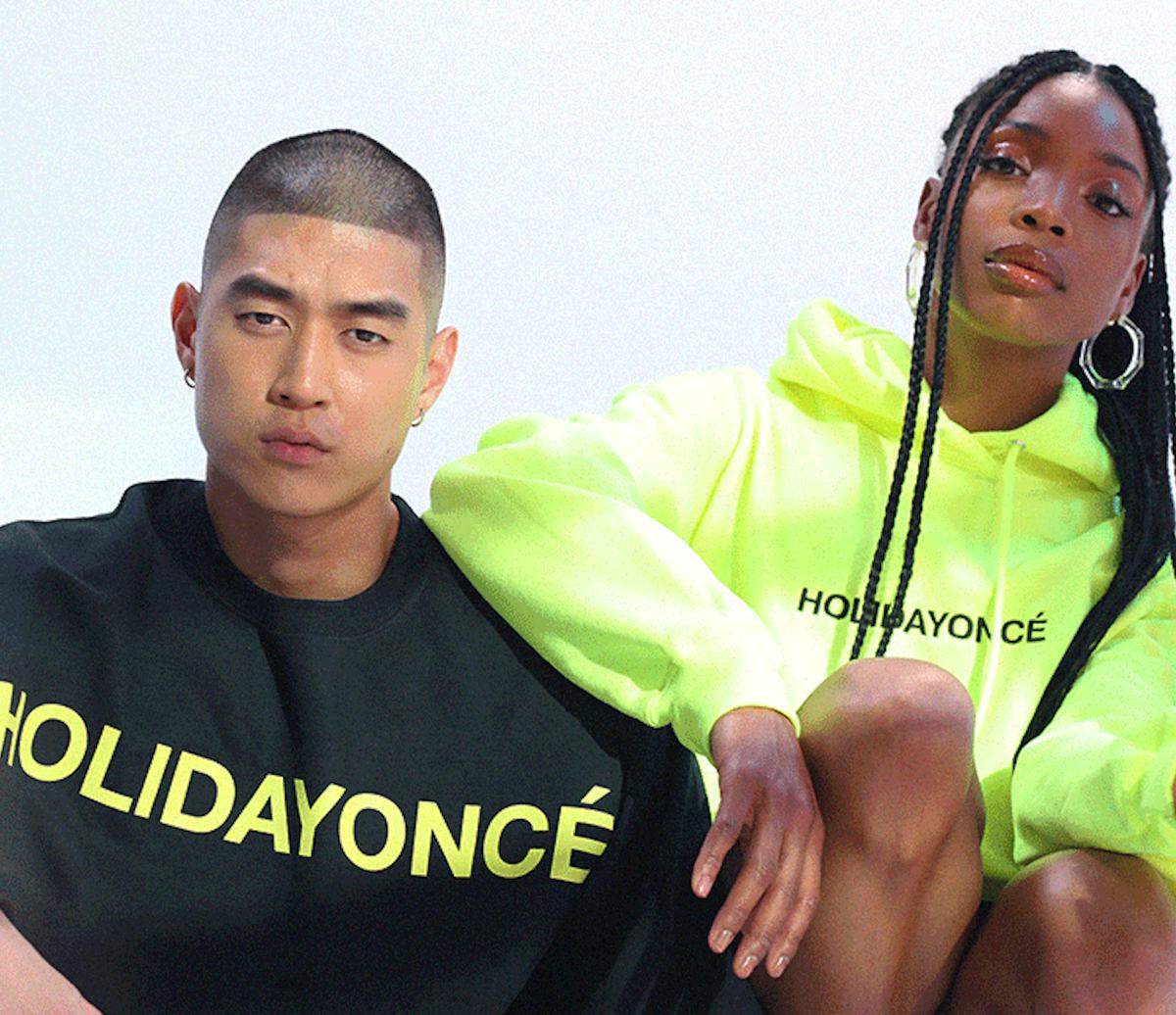 Beyonce Dropped A Holiday Collection & It's All Kinds Of Festive & Bright
If you've got a friend who considered Beychella to be the absolute most important highlight of 2018 (*raises hand*) then Beyoncé's holiday collection is really the only option in terms of where to shop for their gift this holiday season. That's right, the Queen is back with her yearly end of the year collection and this one is brighter than ever.
Featuring an array of tees, hoodies, sweats, mugs, scarves, gift bundles, and even wrapping paper (because who wouldn't want their gifts to come in a Bey-approved print?!), the collection's got something for everyone. If you like to stand out then one of the neon green "HOLIDAYONCÉ" pieces is for you. (These products bring the season's slime green trend to a whole other level.) Shopping for someone with slightly more subdued sartorial taste? The bundles have got you covered. And if something non-wearable is what you're after, Bey's offering mugs stamped with either a black panther, Queen Nefertiti, or a raised fist—they're cool AF and I can't imagine a soul alive who wouldn't want to drink their morning coffee out of one of them. Shop some of the collection's best offerings below and get your fellow hive members outfitted with the best drop of the season.
That's A Wrap
Mhm, the wrapping paper is as good as you expected, isn't it?
All Hail
Show me a fiercer crop top.
Neon Dreams
You'd definitely turn heads on the street in this hoodie, whether it was your intention to do so or not. It's cozy, cool, and would make for a dynamic layering piece. Why not indulge?
Handle It
Every day should be started with a Beyoncé branded mug in hand, preferably one containing some steaming freshly brewed coffee.
Set It Up
If someone in your life is a massive Jay-Z and Beyoncé fan they definitely need this set of On The Run II tour merch. It includes a long sleeved tee and a pair of athletic shorts—sounds like ideal weekend attire.
Queen Bey
Merch has been experiencing a major resurgence over the past five years or so and in light of its rise in popularity it's gotten really, really good. Case in point: these three Beyoncé tees, which each boast a cool unique design that you know your grandkids are going to ask you for one day. They're the vintage band tees of the future.
Creature of Comfort
Because another pair of sweatpants is always a good idea, especially when they're emblazoned with HOLIDAYONCÉ in an eye-poppingly good shade.
Triple Threat
Here's another bundle featuring On The Run II tour merch just in case the first one wasn't enough. Comprised of two regular tees and one cropped style, it's got your concert wardrobe covered for awhile.
Stick It
For something a bit smaller that packs an equally cool punch, this set of four pins is a rad choice. Put them on your backpack, jean jacket, cork board, you name it—wherever you want to display your love for Bey is up to you.