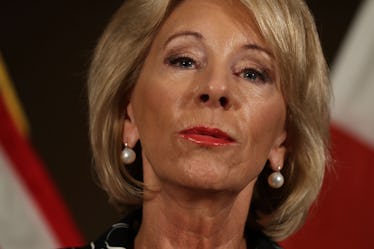 Betsy DeVos Visited Stoneman Douglas High School & People Are Not Happy
Joe Raedle/Getty Images News/Getty Images
In the aftermath of the shooting at Marjory Stoneman Douglas High School in Parkland, Florida that left more than a dozen people dead on Feb. 14, students around the country have made headlines for calling on politicians and demanding action on gun violence. But not everyone has been happy with the response of elected officials. So when Secretary of Education Betsy DeVos visited Stoneman Douglas High School in Parkland and reportedly failed to interact with the students at all, people were pissed.
On March 7, the first full day of school at Stoneman Douglas since the mass shooting occurred, DeVos "observed and reflected on the site of the shooting by laying a wreath outside the fence of the building," per a release from the United States Department of Education. DeVos told CNN that she traveled to the school "just there to be there, to be with them." And that's all she seemingly did — be there — because according to James LaPorta, a writer for The Daily Beast who was in attendance at her conference, DeVos only answered "around five questions" before reportedly ending the meeting abruptly after she was pressed on questions about gun laws.
Students at the high school and other reporters echoed similar complaints.
(Dwyane Wade also visited Stoneman Douglas on March 7 to share words of encouragement with the survivors of the Parkland tragedy.)
Though DeVos reportedly didn't say as much as some people hoped, she did appear to back the suggestion, voiced by elected officials including President Trump, of arming some teachers as a way to prevent school shootings. However, many people — including survivors of the Parkland shooting themselves — have expressed that the move would do more harm than good.
When clarifying some of the concerns that others have had on the matter, DeVos said,
I think to say 'arming teachers' is oversimplification and a mischaracterization really... I think that the concept is to, for those schools and those communities that opt to do this ... to have people who are expert in being able to defend and having lots and lots of training to do so.
According to CNN, DeVos refused to talk about other subjects like banning assault weapons because she said she was leaving it up to the Florida legislature.
But the Florida legislature has repeatedly failed to act on gun control.
On Feb. 21, just days after the Parkland shooting, the Florida state House rejected a ban on assault weapons. And on March 4, another attempt to ban assault weapons failed. The full bill, which called for the minimum age to purchase a rifle be raised from 18 to 21 and also banned bump stocks, passed; but the amendment that included the ban on assault weapons failed in a 20-17 vote, according to Reuters. Legislators voted to arm teachers instead.
Other leaders have met with Stoneman Douglas survivors.
On Feb. 21, CNN aired its nationally televised town hall "Stand Up: The Students of Stoneman Douglas Demand Action." Some of the event's guests included both U.S. senators for Florida, Bill Nelson and Marco Rubio; Rep. Ted Deutch of Florida; and Parkland students Emma Gonzalez and Kevin Trejos. During the meeting, attendees vocalized their opinions on the lobbying group the National Rifle Association (NRA) and gun control proposals such as a ban on assault weapons, much to the dismay of other guests like Rubio.
The same day, President Donald Trump hosted a listening session at the White House with parents, students and teachers who have been affected by the Parkland shooting and other gun-related tragedies, including the Sandy Hook and Columbine shootings. After the meeting, Trump took to his Twitter page to say that he would "always remember" the conference, writing,
I will always remember the time I spent today with courageous students, teachers and families. So much love in the midst of so much pain. We must not let them down. We must keep our children safe!!
If DeVos' meeting was as brief as people are saying, that's unfortunate for her, because she probably missed some really important messages that needed to be heard. But maybe Trump or Rubio can catch her up to speed.