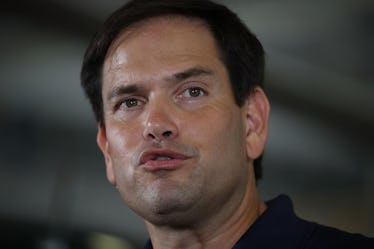 Marco Rubio Got The Most Ironic Cheers After Mentioning An Assault Rifle Ban
Joe Raedle/Getty Images News/Getty Images
During a town hall meeting held for the Parkland, Florida community that was attacked by a gunman a week prior, Senator Marco Rubio (R-FL) was the target of many more jeers than cheers. That all changed at one moment, though, at a point that the senator might not have expected. That moment is now at the center of a video of Marco Rubio discussing an assault rifle ban, a video which drew hundreds of thousands of views on Wednesday night, Feb. 21.
The video starts with Rubio seemingly making an argument against the merits of an assault weapons ban, and ended with an ironic outcome for the senator: cheers for an assault weapons ban, which he does not support.
It all started during an exchange that began with the Fred Guttenberg, the father of a student, Jamie, who was killed during the Parkland shooting at Marjory Stoneman Douglas High School, discussing the idea of an assault weapons ban with Sen. Rubio.
"If I believe that that law would have prevented this from happening I would support it," Sen. Rubio said. "But I want to explain to you why it would not."
After more cross talk, Rubio then went on to argue that attempts to impose assault weapons bans in the past have failed because, among other reasons, there were loopholes that could be exploited and modifications that could be made to a banned weapon to ensure it is legal. Instead of making an effort to "chase" every loophole, Rubio said he'd rather work to ensure weapons don't get in the hands they shouldn't be.
You can see Rubio and Guttenberg's exchange here:
Then came commentary from another congressman, Representative Ted Deutch (R-FL).
"But if there was a problem with the way that was written, if there were too many loopholes for — for people trying to get around it to utilize, then let's bring up the assault weapons ban and close all those loopholes so that we have bill that keeps people safe," Deutch said.
Then came the moment of irony during the town hall, which was broadcast by CNN and moderated by host Jake Tapper.
"Now on the issue that you've raised about the background checks, relate directly to what you said about the — about the assault weapons ban," Rubio said. "It's not the loopholes. It's the problem that once you start looking at how easy it is to get around it, you would literally have to ban every semi-automatic rifle that's sold in the U.S."
When he expected understanding for his stance, instead, applause ensued.
That moment — a streak of boos for a Republican senator, which was only broken when he mentioned action the majority of his party does not support, banning semi-automatic rifles — captures a theme of the coverage of the Parkland shooting's aftermath.
Much of that coverage has featured a debate on the viability of a ban on assault weapons. Wednesday night's town hall featured a new wrinkle to that debate though: a Republican congressman defending his position directly in front of friends and family of victims of a mass shooting.
While the moment of applause in the midst of Rubio's commentary is indicative of the support that the idea of a ban has in that particular room, some conservative commentators have also warned that the visible show of support might only harden those who oppose a ban.
"That's not an own goal, it's an image that millions upon millions of law-abiding gun-owners will see and rightly react against," the National Review's David French wrote on Twitter. "Those are cheers for the revocation of a civil liberty that's essential to our constitutional republic."
The cheers for an assault weapons ban was far from the only time Sen. Rubio received pushback during the town hall. In fact, a grilling of the GOP senator was a theme of the night.
How that grilling will affect of the shape of the ongoing debate on gun control — if at all — remains to be seen.