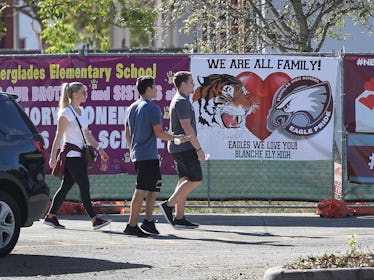 Stoneman Douglas Students Describe Returning To School: "I'm Just Scared At This Point"
Joe Raedle/Getty Images News/Getty Images
Exactly two weeks after a gunman entered Marjory Stoneman Douglas High School, killing 17 people and injuring 14 others, students have gone back to class. The images of the students returning to school were captured by national TV networks, some of which interviewed several students on their way into school — the same campus that was attacked on Valentine's Day. During those interviews came a few quotes from Stoneman Douglas students' describing what it's like to go back to the scene of a crime that claimed some of their friends' lives.
During a Wednesday, Feb. 28 interview on CNN's New Day, Stoneman Douglas freshman Lauren Hogg said, "It's kind of indescribable at this moment, like, it's just surreal. To be quite frank with you, I'm just scared at this point."
When CNN anchor Alisyn Camerota asked Hogg what she's afraid of, the teen replied, "Just going back into my classes and seeing empty chairs where my friends once sat and not being able to talk to them before class and I'm just so scared at this moment."
In a separate interview with CNN, another student, Hannah Karcinell, said she and others were planning to place flowers on the empty desks of classmates who were killed during the shooting and that Wednesday would be about "comforting" each other:
We're all just talking about going back and seeing our teachers and hugging them, just hugging our classmates and just being together with everyone.
In an interview with NPR, junior Macie Chapman also highlighted the emotion ahead of Stoneman Douglas' reopening. "I think we're just going to sit in class and all cry together, and, like, just hug each other and know that everyone else is OK in that class," Chapman told NPR.
The number of students expressing anxiety at how they'll react to being back inside Stoneman Douglas is just one of the themes of the school's reopening in Parkland, Florida.
Another consistent feature was the number of students walking back into the school with shirts that pay homage to the students and teachers who were killed as a result of the February 14 mass shooting.
A link to the site selling the shirts — which bear the caption "MSD Strong" — was shared on Twitter by Stoneman Douglas principal Ty Thompson.
The site reads, "Thank you for the overwhelming love and affection we have received after the tragic event that unfolded in our beloved home: Marjory Stoneman Douglas High School ... ALL proceeds will be going directly to the school to support our students as we transition back to normality over the next weeks, months, and years."
Ahead of the school's reopening, Thompson also shared photos of teachers and administrators wearing the shirts. On Wednesday, as class came back in session, it was a common sight on students as well.
The scene outside of Stoneman Douglas captured by TV networks showed a visibly increased presence of police officers and patrol cars around the high school's premises. While the school has resumed classes, the three-story building that was attacked by a gunman two weeks prior has remained closed, according to ABC News' Tampa affiliate, WFTS-TV.
In other interviews, students expressed anxiety about the future, and how they'd react past the school's re-opening day.
"To come back to where everything occurred is just scary," student Seth Kline told ABC News. "I don't know in the future what I'm going to do during the fire drill ... Something is going to have to be done with procedures and stuff like that."
Much like the interviews of fellow classmates, Kline's quote hints at a fear that things will never feel the same.