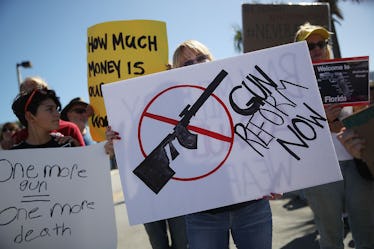 Florida Lawmakers Are Working On The Exact Gun Law Parkland Students Don't Want
Joe Raedle/Getty Images News/Getty Images
Since the Parkland shooting occurred in mid-February, a number of students, parents and teachers at Marjory Stoneman Douglas High School have been vocal about opposing the idea of arming teachers. Despite that opposition, Republicans who sit on the budget committees of Florida's House and Senate have approved funding for a program that would do just that: allow teachers to volunteer to carry weapons while teaching and provide them with special training. Indicative of the irony are Parkland students' tweets about the Florida bill arming teachers and the measure it aims to enact.
Stoneman Douglas junior Cameron Kasky tweeted, "If our teachers could all be armed and trained without wasting any time and money (that isn't being spent on schools anyway) and we could magically guarantee that none of THEM would snap and fire on the students, Maybe arming teachers would be a 5% good idea."
"Being in this type of emergency is traumatizing for both the students AND teachers. If the SCHOOL RESOURCE OFFICER was too afraid, it's highly unlikely that an everyday civilian like a math teacher will be able to respond quickly and precisely," tweeted 11th grade class president Jaclyn Corin, while referencing reports of an on-duty school resource officer failing to engage the shooter who attacked Stoneman Douglas.
"That's your opinion and I respect that but I absolutely disagree I don't think we have the time or money to train teachers," senior David Hogg tweeted while responding to a post from President Donald Trump.
President Trump, too, has been vocal on Twitter about the subject of arming teachers, except he has touted the potential effectiveness of such a plan.
"I never said 'give teachers guns' like was stated on Fake News @CNN & @NBC," the president tweeted on Thursday, Feb. 22. "What I said was to look at the possibility of giving 'concealed guns to gun adept teachers with military or special training experience — only the best. 20% of teachers, a lot, would now be able to ... immediately fire back if a savage sicko came to a school with bad intentions. Highly trained teachers would also serve as a deterrent to the cowards that do this. Far more assets at much less cost than guards. A 'gun free' school is a magnet for bad people."
Florida lawmakers have now done more than taken a "look" at the arming teachers, as President Trump said. The Florida state politicians are moving fast on passing gun legislation that includes the measure.
What Would The Law Accomplish?
The main highlights of the bill approved by the respective appropriations committees in both the Florida House and Senate are a raising of the age limit to buy a gun from 18 to 21 — which the NRA proposes — and $67 million in funding for a "school marshal program," The Tampa Bay Times reports.
The marshal program would provide training to teachers with a goal of having 10 teacher marshals in each school, which would amount to 37,000 marshals statewide, The Tampa Bay Times says.
A wider vote, before the whole of the Florida Legislature (i.e. outside of the two budget committees that approved the bill) is yet to take place. The progress of the bill occurs not only while Parkland students are voicing their opposition, but while Florida's two most high profile Republicans have as well.
Florida Governor Rick Scott, who would ultimately have to sign any such bill, has already said he doesn't want to arm teachers. Meanwhile, Senator Marco Rubio (R-FL) said the same on national TV.
"I don't support that, and I would admit to you right now I answer that as much as a father as I do as a senator," Sen. Rubio said during a CNN town hall. "The notion that my kids are going to school with teachers that are armed with a weapon is not something that, quite frankly, I'm comfortable with."
Whether those opinions deter the progress of the bill remains to be seen.