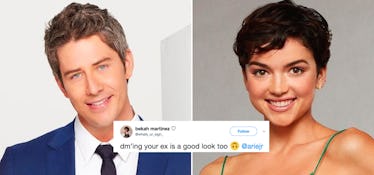 'Bachelor' Arie Slid Into Bekah's DMs & She Called Him Out For It On Instagram
Arie Luyendyk Jr. suckksssss. In case you missed it, during the season finale on March 5, he became the second Bachelor ever to go back on his proposal to one woman in order to get back together with his runner-up. Yup, Arie dumped Becca just weeks after proposing, and ABC aired the unedited footage of the breakup during the last hour of the finale. Most, if not all, of the other contestants on the show pretty much hate Arie now, but get this: he still slides into their DMs. Bekah M. called out Bachelor Arie for DMing her and I honestly think she was too nice in her Instagram caption.
Bekah posted screenshots on Instagram shortly after last night's explosive season finale of the not one, but two times Arie DMed her on Twitter. She threw some crystal clear shade at Arie in her caption that read, "Dm'ing your ex on twitter is a great look too, no? #teampetty #teambecca." The first DM Arie sent Bekah M. was a photo of her Bachelor headshot on the side of a milk carton (she was once on a missing persons list, so he's joking around about that in this DM). He said, "This may just win the internet today. Such a shame they didn't use your license photo" with a crying laughing emoji. Honestly, the nerve of this guy. But wait, there's more! Bekah included two screenshots in her Instagram post. The second photo was a throwback photo of Arie and two women (their faces can't be seen, but Arie's DM makes it clear he's the guy in the photo). He said in his message, "Just realized you were born the same year as my first 2-on-1" with another crying laughing emoji.
Seriously, what is wrong with this guy?!
She also posted the screenshots on Twitter with the caption, "Dm'ing your ex is a good look too @ariejr."
It looks like Bekah completely ignored the DMs (iconic, honestly), and instead she used them as ammo during the finale. And then she meme'd herself after watching the disaster of a finale go down.
She posted a shot of her and Arie in a hot tub (?) from earlier in the season, and the look on her face in the photo could either be saying, "Awwww, this guy's kind of quiet and weird, but he's cute," or "This guy is weird. What have I done?!" Bekah's caption on the post was hilarious and spot-on. She said, "That moment when you realize you dodged a bullet." Girl, if that ain't the truth.
Before the Season 22 finale, Bekah spoke with Entertainment Tonight about whether she thought Arie would be ready for commitment by the end of the season. "No, [I don't think he's ready]," she told the outlet. "I think I'm more ready for marriage than Arie is, quite honestly. I don't think Arie knows what he wants, and I don't think he's serious about being with one person for the rest of his life." Yikes. Do you think she had heard the rumors about the finale when she said this? She continued,
I think Arie has a conflict between how he wants to present himself, and what kind of woman he thinks he should be with, and what kind of woman he knows he should be with, and then what he really wants. I mean, you don't just change dating patterns you had for years and years at the drop of a hat because you're on a TV show — that just doesn't change overnight.
Let's get real here: If Arie wasn't sure about his choice, he should have just bit the bullet and told the producers he didn't feel comfortable choosing between Lauren and Becca. Granted, it's possible he did do that and the producers made him choose one anyway, and that's how we ended up with this mess of a finale. If he really didn't realize his true feelings for Lauren until after he proposed to Becca, he should have been honest sooner. And on top of all of that, he should have respected Becca enough not to end their engagement in such a public, exploitative way. Arie and ABC should have respected Becca enough to let the breakup happen privately instead of airing the entire unedited footage for the better part of an hour on national television. And that's what you missed on The Bachelor.