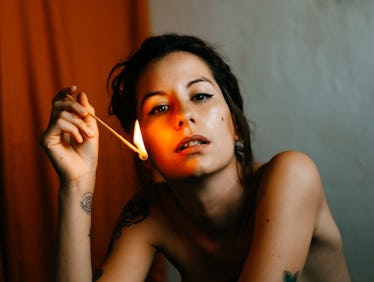 5 Things To Know About Sex With A Fire Sign, So Stop, Drop, & Roll
If you haven't listened to Caroline Polachek's "So Hot You're Hurting My Feelings," I'll tell you right now that she was 100% talking about having sex with a fire sign. Whether you're getting frisky with a Sagittarius or going all the way with an Aries, getting it on with a fiery lover is so hot, it might just hurt your feelings.
"Fire signs have dominance and bravado to them that makes them special and unique," astrologer Lisa Stardust tells Elite Daily. "Aries like to be the best lovers possible. Leos like to perform and be over the top. Sags like to experiment."
From their fearless attitudes to their intoxicating confidence, these three signs have it going on, and aren't afraid to show it. Whether they're loving all over your body or trying all sorts of new moves, fire signs like to keep their sex lives spicy. Of course, while experimenting can be a fun and sexy way to connect with your partner, active consent is always the most important thing. No matter your sign, you never need to do anything you're not totally into and excited about.
Here are five things to keep in mind if you're thinking about turning up the heat with a fire sign.