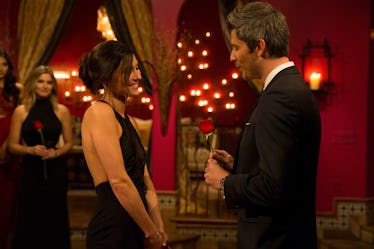 'Bachelor' Arie Took Becca On A 'Pretty Woman' Date & Twitter Is So Jealous
ABC/Paul Hebert
Now that we've got the cringeworthy limo entrances and that first awkward cocktail party out of the way, it's on to the meaty entree of this sumptuous Bachelor feast: the dates! This is what we've all been waiting for, people. The special moments where The Bachelor starts to get real and actual feelings begin to develop beyond first impressions and novelty introductions. This week Arie kicked things off by inviting one lovely lady to spend time with him without any of the other women getting in their way. Let's just say Becca's one-on-one date on The Bachelor with Season 22's leading man did not disappoint in the chemistry (and the material goods) department.
Elaborate dates are woven in the fabric of Bachelor history — helicopters, private concerts, bungee jumping — you name it, ABC's set it up. Becca's date didn't involve risking her life with an extreme sport; it was actually pretty tame compared to some other concepts we've seen in the past. Motorcycle ride? Check. New designer gowns? Check. Jewelry? Check. Louboutins? Check. Although picking out clothes with Rachel Zoe isn't on everyone's personal wish list for a romantic rendezvous, Becca seemed to enjoy herself. This whole fairytale Pretty Woman setup isn't new to the franchise, and quite frankly it's disappointing there was no dress-up montage to the sweet sounds of Roy Oribson if they're going to go that route, but whatever. In any event, Twitter is here for the whole thing. And they want in.
So, Becca basically got to get a bunch of free stuff while hanging out with Arie. The down-to-earth Minnesotan even admitted she would be cool just "laying back and kicking it with him," but let's face it — this date came with some perks.
"Best date ever. I won't take one moment for granted. Like, how do you top that?" Becca remarked.
And when it came time to actually sit down and get to know one another, it appeared that Becca and Arie were clearly hitting it off. No uncomfortable pauses or squirmy movements here. "I just felt like you were down to earth," Arie told her before she mentioned his "eyes suck people in."
"I feel like a princess that has a crush," she said on the evening portion of the date, all decked out in her new ensemble and sparkling jewels. The pair then sat down and she opened up to him about her past relationships, family, and how father passed away.
"She's such a sweet and honest person and I want to make her feel special," Arie said. So, did she get a rose? Um, duh.
A little background on Becca to refresh your memory now that we know she's not going anywhere: The publicist is a Minnesota gal, who says her three best attributes are being "loyal, honest, charismatic," according to her ABC bio. Her bucket list includes "hot-air ballooning, grape stomping, fall in love, and own a house and dog with my partner." Hmm. Those first two definitely sound like they could be future dates on this show, so, fingers crossed?
Becca introduced herself to Arie on the first week by asking him to do her a favor by getting down on one knee to propose. Initially we thought, to quote Pretty Woman, "Big mistake. Big. Huge." But she came off as breezy and endearing, and her approach obviously paid off since Arie kept her around. "Well, that was a first for me..." he responded.
Plus, it turned out Becca had even more charming tactics up her non-existent sleeve. When she and Arie finally got alone time together on that first night, the 27-year-old read him questions from her mom since family is important to her. An undeniably cute approach, we must admit.
We look forward to seeing Becca's fate with Arie as the series moves forward and relationships continue to grow. Hey — she's Jimmy Kimmel's pick for winning the whole thing! And any woman who can appreciate the Sister Act 2 soundtrack is alright in our book. 'Til next time, #BachelorNation...