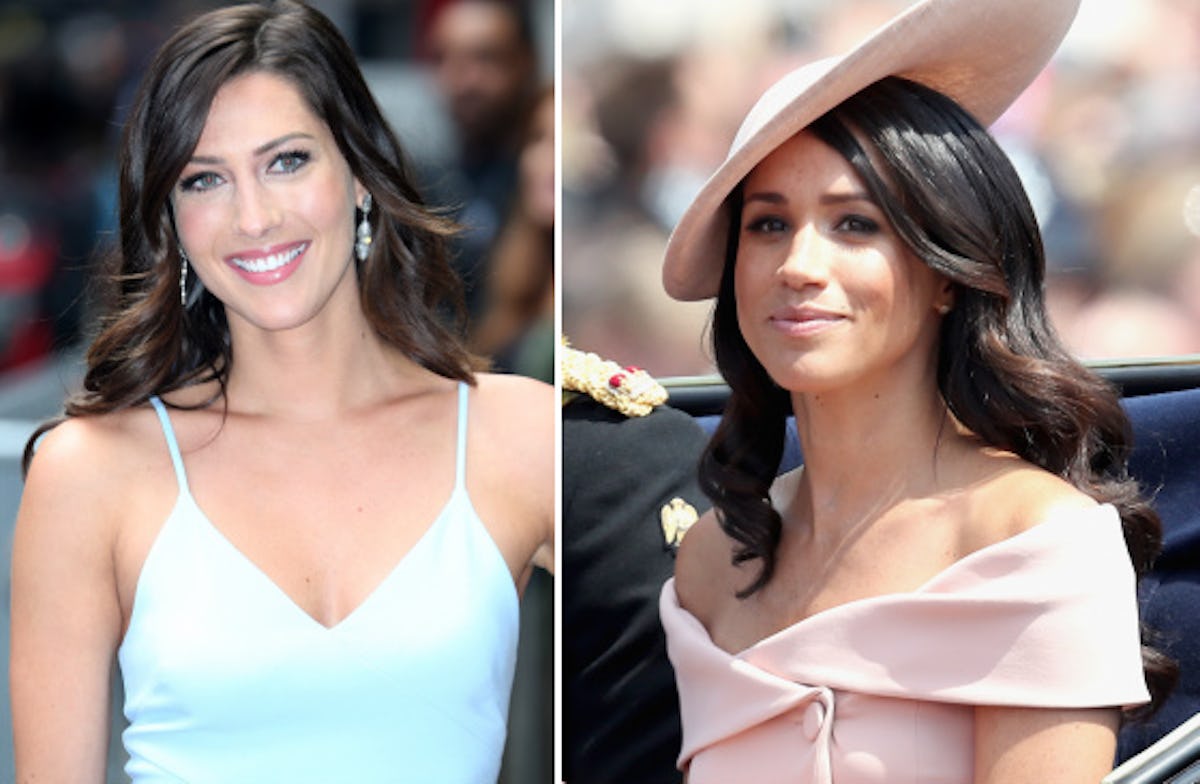 'Bachelorette' Becca Kufrin's Ring Has This In Common With Meghan Markle's Sparkler
Broadimage/Shutterstock & Chris Jackson/Staff/Getty Images News/Getty Images
The Bachelorette is basically America's version of a royal romance. With Meghan Markle (an American) in Buckingham Palace, though, the two worlds are colliding more than ever and I spy some resemblance between the women's taste in jewelry. Comparing Becca Kufrin's ring vs. Meghan Markle's ring shows some striking similarities.
The stories behind the two engagement rings (and their bearers) could not be more different. Markle was an American actress living in Canada when a mutual friend between her and her now husband (Prince Harry) introduced the couple. I mean, I love my friends but they have yet to set me up with a Prince. After approximately a year and a half of dating (according to a Markle and Harry relationship timeline), the couple announced their engagement and the world let out a collective "aww." Just as amazing as their love story, though, is Markle's engagement ring. Prince Harry designed the ring himself and used some diamonds from his late mother's (Princess Diana) personal jewelry collection. There goes another "aww."
Kufrin's story is a little different than Markle's. Kufrin first appeared on ABC's The Bachelor and was proposed to by Arie Luyendyk Jr. but Luyendyk Jr. abruptly ended the relationship. Kufrin made lemonade of the situation and went on to become The Bachelorette where she accepted Garrett Yrigoyen's proposal. Yrigoyen picked a gorgeous three stone ring for Kufrin, and I'm wondering if he consulted Prince Harry in his decision because the rings look rather similar.
Becca Kufrin's Ring From Garrett Yrigoyen
Yrigoyen proposed to Kufrin with a three stone ring from Neil Lane, as shown in a post from the Neil Lane Jewelery Instagram. The ring is made of 18 carat gold, has a center oval diamond with two smaller oval diamonds on each side, and the band is covered with an additional 84 small diamonds. Lane spoke to People and revealed that, including all of the smaller stones, the ring has a total weight of 3.75 carats. Lane also commented on the meaning behind the design: "[I]t has three oval stones, which helps celebrate both of them as a couple and the third diamond represents their future together." The meaning (and the look) of the three stones is beautiful, but it's also not that dissimilar from a certain duchess' diamonds.
Meghan Markle's Ring From Prince Harry
Markle's ring also has a three-stone design. The Duke and Duchess of Sussex haven't given a ton of details about the carat value of the ring but Vanity Fair's jewelry editor, Annabel Davidson, has estimated the center stone to be a cushion-cut diamond of least two carats, and notes that the side stones are brilliant-cut. Prince Harry did comment, however, that the center stone is from Botswana (a country he has a strong connection to) and the side stones are from a brooch that used to belong to his mother, Princess Diana.
Minus the pavé stones on Kufrin's jewelry, the two rings are remarkably similar in style – both have a yellow gold band and are a three stone style ring.
Only Markle's came with a prince, though. Sorry, Becca.