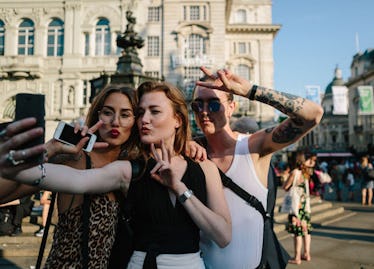 You Can Have 3 Of The Top Tourist Attractions In The World To Yourself & My Mind Is Blown
Are you ready to have your mind blown? If you answered that question with a slightly hesitant, but very real, "yes" — then do I have news for you. First thing's first: Imagine your latest trip or vacation. Maybe you packed your bags and went someplace tropical, lived in another country for a few days, or explored a dreamy city on the West Coast. You wanted to see the Golden Gate Bridge, or take a tour of the Louvre — but so did everyone else. Ugh, what gives? Did you know that you can beat the crowds at popular tourist attractions with City Wonders? That's right. You can have some of the greatest wonders of the world to yourself.
Now, clear that image from your head, and let's create a new vision of your next trip. You're heading off to Rome, in search of love and lots of pasta. Naturally, you watch Eat Pray Love on the plane, just to set the right tone. You're with a couple of your best friends, who are sitting a few rows back and snuggled up under those thin fleece blankets. It's going to be a long flight, but the second you see the Colosseum or the Trevi Fountain, everything becomes #worthit.
Well, that's assuming there aren't crowds of tourists, directly in front of the best views. You fully intend to squeeze your way through the people and guided tour groups in the mid-afternoon, and grab that selfie in front of St. Peter's Basilica. But, my goodness, would it be sweet if you could experience these places with a little peace and quiet.
You would take a few pictures without worrying about the background or someone walking in front of the lens. Then, you'd simply stare at the architecture in awe, and soak up the beauty of such a popular attraction. Believe it or not, this vision isn't too far-fetched. Thanks to City Wonders, you can experience the world's top sights and museums, without the hassle of crowds. *Cue the gasps, because your mind just got blown.*
How can you beat the crowds at the world's top sights and museums?
Let me give you the scoop on City Wonders and these mind-blowing exclusive tours — because hopping on one of these adventures is the best way to beat the crowds. This European day-tour operator has connections and partnerships with popular museums, giving its travelers private access to famous art and iconic sites. So, you're always guaranteed an experience that's free of packs of travelers.
These tours turn normally stressful experiences into something legendary. Exploring The Vatican becomes a one-of-a-kind experience when you and your small group is brought to St. Peter's Basilica. And going through the Sistine Chapel before the crowds of travelers arrive makes you feel like you're in a movie. Seriously, all of those Eat Pray Love dreams of yours are about to come true.
Which City Wonders tours should you book right now for an exclusive sightseeing experience?
These three tours to book with City Wonders give you exclusive access to the world's most popular tourist attractions. These experiences let you skip the lines and gain some worldly insight without the hustle and bustle of sightseeing. Are you ready for this?
First, grab a plane ticket to Rome, because that's exactly where the adventure begins. In the morning, you may grab a croissant and a cappuccino at the café near your Airbnb. But, plan to make that stop for food a bit early, so that you can get to your tour of the Sistine Chapel. This package lets you skip the line for St. Peter's Basilica and visit the tombs below. Although you have to wake up bright and early to be there just after 7 a.m., you see these sights over an hour before the general public.
Second, book a day trip to the Pope's summer residence. After a while, the chaos of the city can get old, and you may want to soak in some different scenery. The After-Hours tour brings you and your best friends to the Pope's private farm, and serves you a divine meal that includes fresh produce from the crops. From there, you get to explore the gardens, palaces, and terraces on the grounds.
Last but not least, City Wonders offers an after-hours tour of St. Mark's Basilica that gives you access to areas that even daytime crowds aren't allowed to go. You can wander around and admire the precious stones on the altarpiece, and enjoy the serenity. At the end of the day, sightseeing doesn't seem so stressful, and you've gotten to check a few things off your bucket list, too.
What are some perks of beating the crowds at these sights and museums?
There are a lot of perks that come with experiencing these bucket list items without crowds of tourists. But, let's focus on one: Pictures for the 'Gram. Let's be honest: Before you even go on a trip, you're planning your photos and finding inspiration on Pinterest. You want to hold your gelato up in front of the Colosseum, or put a scarf in your hair for when you're posing in the Italian squares. (Girl, same.) More often than not, though, tourists get in the way of these photos and you're stuck using your favorite editing apps to alter the image a bit.
Aside from not having to wait in lines, going on these tours and gaining exclusive access to top attractions is ideal for the 'Gram. Can you already picture the photos you could get of the buildings and skyline right as the sun is rising above the horizon line? (Honestly, I'm getting chills just thinking about such a moment. Somebody get me a plane ticket and my camera ASAP.)
What are some other ways you can beat the crowds on your next trip?
Throughout all of my personal travels, I've discovered some pretty tried and true ways to beat the crowds. Booking tours, like the ones from City Wonders, is a great place to start. But, sometimes during the day, you're still stuck with an itinerary that deals with tourists.
So, how else can you dodge all the stress and hectic-ness on your next trip? Well, I'd suggest curating what I'll call a "local experience." This focuses on getting off the beaten path and finding underrated spots that aren't on the top of everyone's bucket list.
Grab a bunch of snacks at the local market, and find a beach to call your own. Hop on a train and visit a town that's not too far away for an afternoon, and see what you find. These little adventures may not include any iconic landmarks, but make the best memories. Before you know it, you're blowing the minds of your friends back home.