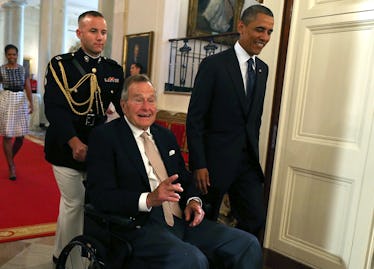 Barack Obama Shared A Meaningful Message Following George H.W. Bush's Death
Mark Wilson/Getty Images News/Getty Images
It's a sad day in the political world. According to multiple reports, President George H.W. Bush passed away on Friday, Nov. 30 — and the remembrances have been flowing in since. Barack Obama's message after George H.W. Bush's death, specifically, is a glowing celebration of his predecessor's life, and the many contributions Bush made while serving his country.
The lengthy statement was shared by ABC News on Twitter on Friday evening. Acknowledging the sadness Americans feel in the wake of Bush's death, Obama added that "they are also filled with gratitude."
He continued:
Not merely for the years he spent as our forty-first president, but for the more than 70 years he spent in devoted service to the country he loved — from a decorated Naval aviator who nearly gave his life in World War II, to Commander-in-Chief of our Armed Forces, with plenty of posts along the way. Ambassador to the United Nations. Director of Central Intelligence. U.S. Envoy to China. Vice President of the United States.
Obama went on to praise Bush's efforts while he was president from "expanding America's promise to new immigrants and people with disabilities," to "reducing the scourge of nuclear weapons." The legacy that Bush left behind, Obama wrote, "may never be matched, even though he'd want all of us to try."
He ended his message noting that Bush and his wife, Barbara, who passed away back in April at the age of 92, are finally together again, calling the pair "two points of light that ignited countless others with their example." Beautiful.
Obama's message is just one of many in the outpouring of condolences and tributes that have surfaced since it was reported on Friday evening that the 94-year-old had passed away at his home in Houston, Texas. Despite their political differences, President Donald Trump also issued a heartfelt statement on Bush's passing, writing that the former commander-in-chief "inspired generations of his fellow Americans to public service."
Trump also reflected on pivotal points in Bush's career, from his time in the military to his political efforts. "President Bush always found a way to set the bar higher," he wrote. "As a young man, he captained the Yale baseball team, and then went on to serve as the youngest aviator in the United States Navy during the Second World War. Later in life, he rose to the pinnacle of American politics as a Congressman from Texas, envoy to China, Director of Central Intelligence, Vice President of eight years to President Ronald Reagan, and finally President of the United States." According to Politico, Trump is scheduled to talk with Bush's son, former President George W. Bush, on Saturday, Dec. 1 to personally share his condolences.
Trump is also scheduled to attend Bush's funeral, per USA Today. Elite Daily reached out to the White House for comment on whether President Trump would attend Bush's funeral, but did not hear back at the time of publication. Details and the timing of the event are unknown, but it will reportedly be held at the National Cathedral, where fans, political figures and others will be able to say their final goodbyes.
Rest in peace, Mr. Bush.