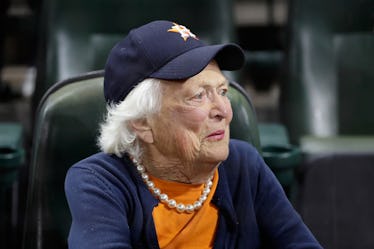 Former First Lady Barbara Bush Has Died At Age 92, Spokesperson Says
Pool/Getty Images Sport/Getty Images
It's a very sad day in America. Former first lady Barbara Bush has passed away at age 92, according to a family spokesperson. Throughout her life, Bush had been regarded as a vocal champion for human rights, a relatable "old-fashioned grandmother" — thanks to her signature white hair, pearl jewelry and witty sense of humor — and a woman who shook up conventions of what first ladies were expected to be. She was fierce and nonconformist and unabashedly herself, which is why this news is so shocking and stings so deeply.
On April 17, Jim McGrath shared the news on Twitter with a statement from the office of her husband, George H.W Bush. It reads:
A former First Lady of the United States of America and relentless proponent of family literacy, Barbara Pierce Bush passed away Tuesday, April 17, 2018 at the age of 92. She is survived by her husband of 73 years, President George H. W. Bush; five children and their spouses; 17 grandchildren; seven great grandchildren; and her brother, Scott Pierce. She was preceded in death by her second child, Pauline Robinson 'Robin' Bush, and her siblings Martha Rafferty and James R. Pierce.
The statement also notes that no official funeral date has been planned yet, but says that it'll be announced "as soon as is practical."
After the news broke, several Twitter users posted messages to share their condolences.
President Donald Trump posted a message on behalf of himself and his wife, Melania, that praised Bush for her "strong devotion to country and family, both of which she served unfailingly well."
President Bill Clinton also shared a message on Twitter, calling Bush a "remarkable woman," who had "grit & grace, brains & beauty."
Her son, President George W. Bush, also released a statement, calling his mother a "fabulous First Lady" who was "unlike any other." According to Fox News, it reads,
My dear mother has passed on at age 92. Laura, Barbara, Jenna, and I are sad, but our souls are settled because we know hers was. Barbara Bush was a fabulous First Lady and a woman unlike any other who brought levity, love, and literacy to millions. To us, she was so much more. Mom kept us on our toes and kept us laughing until the end. I'm a lucky man that Barbara Bush was my mother. Our family will miss her dearly, and we thank you all for your prayers and good wishes.
The news of Bush's death comes just two days after it was announced that she was in failing health and would not seek further medical care. On April 15, The Washington Post reported a person close to the family saying that Bush was suffering from a lung disease called chronic obstructive pulmonary disease and congestive heart failure. After multiple hospitalizations over the years, she reportedly wanted to focus on "comfort care" instead of receiving additional medical attention.
Bush's health issues stem back to at least 2008, according to Fox News. That year, she underwent surgery for a perforated ulcer. In 2009, she had open-heart surgery. In 2014, she was hospitalized for a respiratory-related issue. And back in January 2017, Bush had also been hospitalized for bronchitis, according to ABC News. At the time, she was suffering from fatigue and coughing and had been sick for weeks. However, afterwards, McGrath said Bush was feeling "1,000 percent better."
Much love to the her family during this time. And many thanks to Bush for leaving behind a legacy of class, dignity and so much laughter.