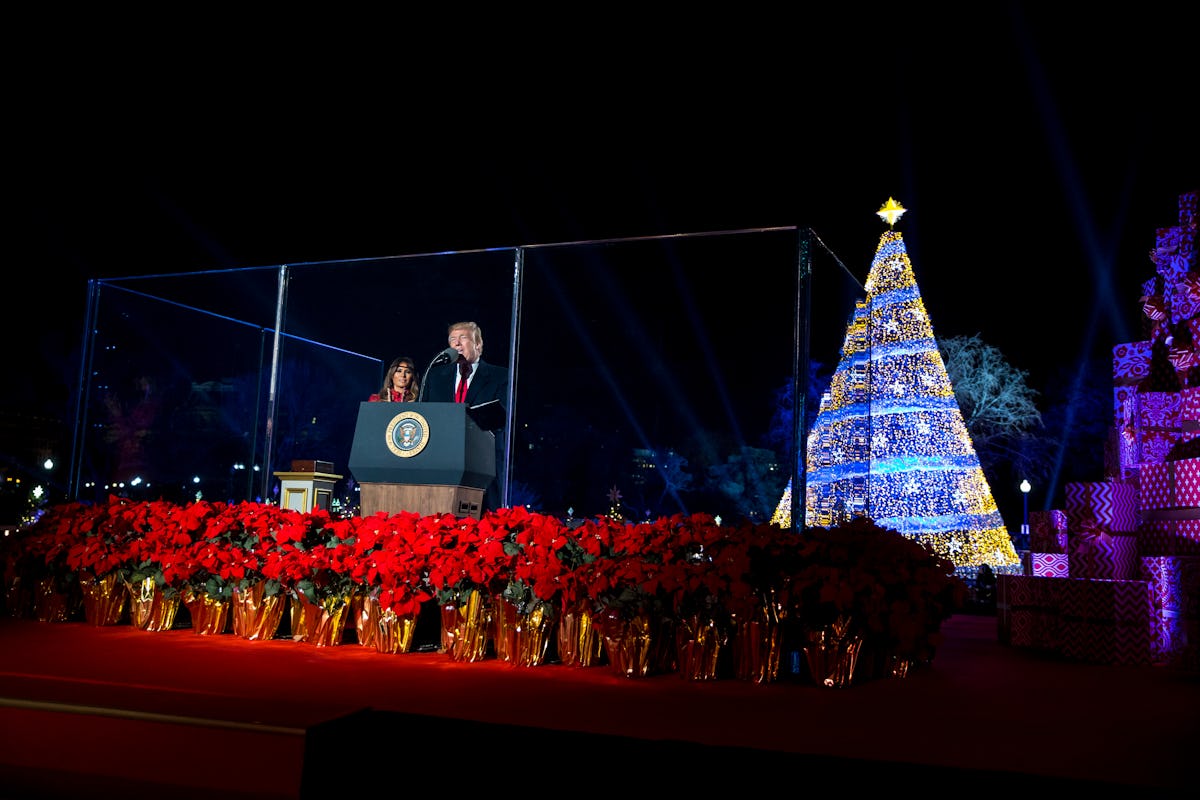 Barack Obama's 2016 Christmas Tree Lighting Makes Donald Trump's Look Pretty Lame, TBH
Pool/Getty Images News/Getty Images
On Thursday, Nov. 30, President Donald Trump and First Lady Melania Trump partook in another White House tradition, the annual National Christmas Tree Lighting ceremony. But it was hard to not notice a glaring difference from years prior. Former President Barack Obama's Christmas tree lighting in 2016 was way more exciting than Trump's first time around.
"The National Tree Lighting ceremony was beautiful this evening - but hard not to notice the empty seats," tweeted ABC correspondent Steve Rudin on Thursday evening about Trump's ceremony. A photo taken by Rudin showed a bank of empty chairs lined up not far back from the ceremonial stage. The event began at 4:30 p.m ET at the Ellipse in Washington D.C.
According to the National Parks Service (NPS), this year was the 95th year of the tradition, which began on Christmas Eve of 1923, when President Calvin Coolidge lit a tree in front of a crowd of 3,000 people. Every president since has carried on the tradition. Presidents have often used the occasion not just to ring in the holiday season, per the National Christmas Tree website, but to deliver a message to their citizens. Sharing Rudin's photo, ABC's Steve Sweeney wrote, "Traditionally the White House Christmas tree lighting is standing room only."
Though it would be all to easy to point to some factor such as poor weather to affect turnout, it didn't appear to be the case. Replying to a comment about how nice the weater was, Rudin wrote, "Two years ago, we had wind gusts up to 20 mph and wind chills around 40 degrees. No wind and temps in the lower 50s felt great this time around."
Obama's 2016 ceremony was a full-on party.
The lineup for Obama's 2016 ceremony was basically a red-carpet function, featuring Chance the Rapper, Kelly Clarkson, James Taylor, The Lumineers, Eva Longoria, and Marc Anthony, among others. Obama himself sang "Jingle Bells" with Santa, while Michelle read aloud from Twas The Night Before Christmas alongside Olympian Simone Manuel. (Is there anyone cool who wasn't there?)
According to Fox, though, Obama appeared to have had empty seats at at least one of his tree-lighting ceremonies during his eight years in office. As Fox 5 DC points out, a Twitter photo from 2015 seems to suggest a less-than-full attendance at the annual ceremony. But the official NPS video from that year seems to show a packed house. (Make of that what you will.)
Side by side, the two years' ceremonies are clearly different.
Earlier in the day, Rudin shared a photo of the event before the guest of honor was there. Clearly, the majority of the seats were empty. Three hours later, things hadn't changed much. "All quiet now, but things should pick up when @realDonaldTrump arrives to light the National #Christmas Tree. Proud to forecast perfect #weather this year!"
Looking at photos from last year's ceremony, it's evident that, even before sundown, there was a packed crowd at the park. Fox 5 DC reports that, per the NPS, about 12,000 to 15,000 of the 20,000 people across the country who are given tickets normally show up in a given year. It wasn't clear, however, how many people showed up for Thursday's ceremony.
The entertainment for the 2017 ceremony similarly betrayed a sense of popularity. This year, Trump shared the stage with the likes of Wynonna Judd, the Beach Boys, and Kathy Lee Gifford. This year's event also ran up a much higher tab — costing about $27,000 more than 2016, TMZ reports.
The lighting ceremony's paltry attendance this year drew immediate comparisons to Trump's inauguration in January, which had significantly lower attendance than Obama's.
And people also remarked on how Trump and his administration has repeatedly tried to change the narrative on the crowd size. White House advisor Kellyanne Conway and former Press Secretary Sean Spicer both defended the claim that it was a historically large inauguration crowd. Trump himself backed it up, saying, the crowd "looked like a million-and-a-half people," and that it "went all the way back to the Washington Monument."
"Unless you want to make @realDonaldTrump very unhappy, DO NOT retweet these photos showing how many more people showed up for @BarackObama's Christmas tree lighting ceremony," tweeted Obama appointee Andrew Weinstein.
In fact, the inauguration crowd size became such a point of controversy that the NPS received complaints accusing them of falsifying the crowd estimate numbers, according to Time. An investigation, whose results were released in June, confirmed that the numbers had not been altered in any way. Aerial photos showed a clear difference in attendance.
If you want to see for yourself, the official tree lighting ceremony will be broadcast on the Hallmark Channel on Monday, Dec. 4 at 7 p.m. ET and on the National Christmas Tree Lighting website starting Tuesday, Dec. 5.