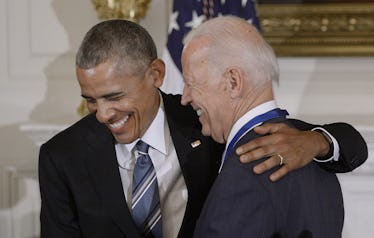 Barack Obama Wished Joe Biden A Happy Birthday With The Best Meme Ever
Pool/Getty Images News/Getty Images
On Monday, Nov. 20, former President Barack Obama used a Joe Biden meme to wish the former vice president a happy birthday, and, yes, it was everything you hoped it'd be. Former Vice President Joe Biden celebrated his 75th birthday on Monday, and it was only fitting that Obama would reach out over social media to wish his best bro a happy one. It's been quite some time since we've been able to see these two pal around together in real life, so it was really endearing to see them still acting friendly online, at least.
In case you totally missed out on one of the most precious trends on the internet in the past year, Obama-Biden memes emerged last fall as Americans began to face the reality that the country would be losing these two important public figures once the inauguration hit in January. The memes used amazing pictures of Biden and Obama and paired each image with archetypical fake conversations between the two. It was always Obama being calm, cool, and collected, while Biden was playful and over-excited about life.
Obama and Biden are clearly aware of the memes, and Obama made use of them in his own way to wish Biden a happy birthday on Monday. Obama tweeted a picture of himself giving a speech — and in the background of the picture, Biden is laughing with a goofy smile and a finger pointed. In the tweet, Obama wrote a little script with himself telling Biden "halfway through the speech, I'm gonna wish you a happy birth—" but, as Obama writes, he gets interrupted by Biden screaming, "IT'S MY BIRTHDAY!"
Check it out:
Obama ended his birthday meme tweet by wishing Biden a happy birthday and calling him "my brother and the best vice president anybody could have."
It's important to note how special the relationship between Biden and Obama is for Americans — and especially for young men. Within this close, public friendship, young men have a positive role model for what "masculinity" and power look like. Biden and Obama are outwardly very tight-knit, eager to support each other, and quick to show authentic emotions around each other. We saw this, for instance, this past January, pre-inauguration, when Obama awarded Biden the Presidential Medal of Freedom, and both of them became visibly emotional.
They hug, they joke around, and they're there for each other in times of need. These are the kinds of positive examples we need young men to see, and it's why we still have to celebrate when Obama and Biden do something as simple as send a silly meme out for a birthday wish.
Just this past week, Biden acknowledged the existence of the Obama-Biden memes, telling NBC News that "in essence, they're all true." In particular, Biden pointed out this one as his favorite:
And in March, Biden's daughter Ashley said when she showed her father the memes, he "sat there for an hour and laughed." At that point, this one was his favorite:
"I still keep in close touch with him, and my granddaughters and his daughters are each other's best friends. They vacation together," Biden told NBC last week. "You know, it's family."
The feels, I know.
Biden has been in the news quite a bit lately thanks to his new book, Promise Me, Dad: A Year of Hope, Hardship, and Purpose. While doing press for the book, the former vice president has repeatedly dropped hints about running for president in 2020, not entirely ruling out the option. He has indicated that he believes he could have beaten Donald Trump for the office in 2016, but, as his book discusses, he was not in a mental place to run following the death of his 46-year-old son, Beau, to brain cancer in May 2015.
Awkwardly, as he celebrates his 75th birthday, one of the major potential barriers to Biden running in 2020 is, well, his age. Should he run in 2020, he'd be one of the oldest presidential candidates in history, and many people believe the Democratic party needs younger, fresher faces to get a victory in the next election with more progressive policies and ideals. So it's a bittersweet happy birthday for Biden, but at least we got the memes.