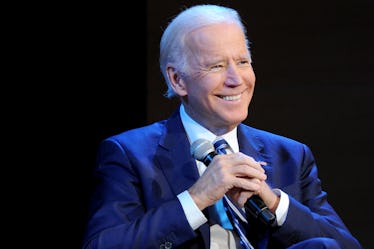 Joe Biden Shaded Trump About Running For President, & We're So Here For It
Craig Barritt/Getty Images Entertainment/Getty Images
Joe Biden is the biggest political tease alive right now, and he's proven it time and time again since last year's presidential election. Following Donald Trump's stunning victory, the former vice president has gone back-and-forth on the likelihood of a 2020 run. While promoting his new book on the Today show on Nov. 13 and discussing the possibility of a presidential bid, Joe Biden basically said he'd beat Donald Trump in 2020. You know. If he ran.
Although Joe Biden is currently making the media circuit rounds to promote his new memoir, Promise Me Dad, he can't escape answering questions about what happened in the 2016 election and what could happen come 2020. There's been a lot of hypothetical chatter surrounding a possible run against Trump in the next presidential election. And Biden himself has gone back and forth on the subject, where he's both denied any chance of running and expressed himself as open to the opportunity.
But while talking to Megyn Kelly on Today on Monday, it seemed a lot more likely that a Biden 2020 presidential bid might actually happen. When Kelly asked Biden about Rust Belt voters that favored Trump over Hillary Clinton in last year's election, Biden responded pretty definitively, stating, "They love me more." Okay, Joe.
The declarative statement is something to be excited about. It shows off Joe Biden's confidence level and gives us a peek into where he is mentally. And the audience seemed to love it too, cheering and clapping after Biden shaded Trump and his "stake" in the crucial Rust Belt region. Defending his declaration, Biden said:
I understand the Rust Belt, Donald Trump has no notion what those people are going through… It's not a criticism, it's an observation... They call me Middle Class Joe – it's not meant as a compliment in Washington, it means I'm not sophisticated. But I understand what built this country. The only thing I know I know, is the middle class, their hopes and aspirations, because it's where I come from. It's what I am.
The Rust Belt is brought up when analyzing the result of the 2016 election because of the significant loss Hillary Clinton had in the region. The region (which is called the Rust Belt due to the once-booming industrial economy in the 50's) was once seen as a Democratic stronghold during presidential elections. Well, that didn't happen in 2016 — Trump ended up picking up those key votes from the region, which many argue is what led to Clinton's loss.
Earlier on Today, Biden spoke with Matt Lauer and Savannah Guthrie, who also brought up the possibility of a 2020 election run. Biden said he hasn't made up his mind yet, but suggested that it's not out of the question. He said, "I'm not closing the door. I've been around too long." Biden also said that there's a lot of work to do before he could make that decision, which includes winning back the House of Representatives in the elections prior to 2020. So even though the former VP hasn't made an official decision yet, at least he's not saying "no."
Biden had planned a presidential run in the 2016 election, but when he lost his son to brain cancer in May 2015, he couldn't muster the strength to give a presidential bid his all. And although it was sad to see him miss the opportunity to continue the work the Obama administration begun during their eight years in the White House, clearly his decision to back out of the race was understandable.
Despite Biden's painful past, it seems like he's ready to get back into it. When asked if he thought he could have beaten Donald Trump in 2016, Biden said, "The polling data at the time said yes, but I wasn't in the race, you've got to be in the race."
Well it certainly sounds like he thinks he could beat him in the future. And we're keeping our fingers crossed. Could you imagine a Biden versus Trump election year? That would definitely be one for the books.