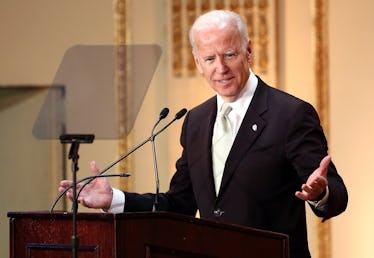 Joe Biden Yet Again Refuses To Rule Out Running For President: "We'll See What Happens"
Monica Schipper/Getty Images Entertainment/Getty Images
Former Vice President Joe Biden has discussed once again the possibility of running for president. While the 74-year-old political veteran did not commit to a bid for the 2020 race, he also avoided ruling out a bid altogether. The subject of whether Joe Biden will run for president was touched about in two separate interviews the former vice president provided while promoting a new book.
In one of those interviews, with Vanity Fair, Biden said he hadn't made a decision on his candidacy either way, saying,
I haven't decided to run, but I've decided I'm not going to decide not to run. We'll see what happens.
In another interview, with In Style magazine, Biden pointed to the loss of his son, Beau Biden, as a factor in his decision making, saying,
Look, I learned a long time ago that, first, three and a half years is two lifetimes in presidential politics. And second, my family is healing. I'm sure other families have had this experience, but the loss of Beau was a devastating blow.
Beau Biden, the former vice president's first-born child and Iraq war veteran, died in May 2015 at the age of 46, two years after receiving a diagnosis of brain cancer.
In his interview with Vanity Fair — which was published on Wednesday, Oct. 25, and is set to appear in the magazine's December issue — former Vice President Biden said he'd planned to run for president before his son's death, saying,
No question. I had planned on running, and I wasn't running against Hillary or Bernie or anybody else. Honest to God, I thought that I was the best suited for the moment to be president.
In October 2015, four months after his son's death, Biden announced that he would not seek to be elected former President Barack Obama's successor.
While I will not be a candidate, I will not be silent. I intend to speak out clearly and forcefully, to influence as much as I can where we stand as a party and where we need to go as a nation.
While Biden hasn't committed to a run at the White House, the former Vice President nonetheless launched a political action committee (PAC) in June, which allows him to raise for political campaign for other politicians and perhaps himself. A letter featured on the website of the PAC, American Possibilities, quotes Biden as saying,
At our best, America has always thought big. That's why the negativity, the pettiness, the small-mindedness of our politics today drives me crazy. We're better than this.
Later in the letter, Biden adds,
It's time to treat each other with dignity and respect. Not as opponents, but as fellow Americans. Because that's what we are.This is a time for big dreams and American possibilities. If that's what you believe — and you're ready to help elect folks who believe that, and to support groups and causes that embody that spirit — then I'm asking you to join me today.
While Biden hasn't committed to challenging current President Donald Trump at the ballot box, Biden has shown little hesitation in challenging Trump in via interviews and speeches.
During his interview with Vanity Fair, for example, Biden labelled Trump "uninformed" while indicating the president is a threat to the fabric of American. Biden said,
This sounds corny, but everything the founders did was to erect institutions that made it more difficult to abuse power. That's why they have three different branches of government. And what really worries me about this administration is the frontal attack on those institutions that, if they were lost, makes the abuse of power so much more available.
Joe Biden will be 78-year-old on election day in 2020. In the event of victory, he would become the oldest president-elect in U.S. history.