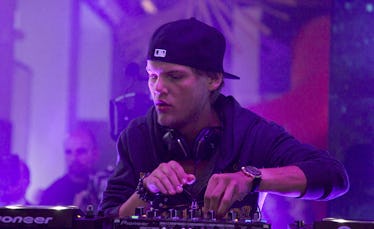 Avicii Said He Was "Going To Die" In This Chilling Quote From His Documentary
Mike Lawrie/Getty Images Entertainment/Getty Images
The world has been mourning the loss of 28-year-old Swedish DJ Tim Bergling, most widely known as Avicii, since his death on April 20, 2018. His body was found at the Muscat Hills Resort in Muscat, Oman. At this time, the cause of death has yet to be confirmed, though fans suspect it had something to do with Bergling's health struggles over the years. Prior to his death, Netflix released a documentary following his career and life titled Avicii: True Stories. Shockingly, Avicii said he was "going to die" in a chilling quote from his documentary. It has since been pulled from Netflix.
On Friday, April 20, Avicii's publicist, Diana Baron, released a statement confirming his death. The announcement said:
It is with profound sorrow that we announce the loss of Tim Bergling, also known as Avicii. He was found dead in Muscat, Oman this Friday afternoon local time, April 20th. The family is devastated and we ask everyone to please respect their need for privacy in this difficult time. No further statements will be given.
Since then, reports say two autopsies have been conducted and authorities have ruled out "criminal suspicion." In 2016, Avicii suffered severe health troubles which included acute pancreatitis and his gallbladder and appendix were removed. Due to all of this, Avicii made the decision to stop touring and focus on his health. Now, fans are listening to some of his commentary on the touring lifestyle and the real toll it took on the young artist. In the documentary, Avicii claimed he knew if he continued touring, "he would die."
He said, "I have told them this. I won't be able to play anymore. I have said, like, 'I'm going to die.' I have said it so many times." He added, "And so I don't want to hear that I should entertain the thought of doing another gig."
He also described the pushback he received when he announced he no longer wanted to tour. He explained,
I have been very open with everyone I work with, and everyone who knows me. Everyone knows that I've had anxiety and that I have tried. I did not expect that people would try to pressure me into doing more gigs. They have seen how ill I have felt by doing it, but I had a lot of pushback when I wanted to stop doing gigs.
While the doc is no longer available on Netflix, you can catch the trailer on YouTube.
In a 2016 interview with The Hollywood Reporter, Avicii expanded on his desire to slow down and take care of his health. After reading his statements and interviews, it becomes more and more clear how severe the situation was for him personally, despite what his team and fans saw on the outside.
He told The Hollywood Reporter,
To me, [quitting touring] was something I had to do for my health. The scene was not for me. It was not the shows and not the music. It was always the other stuff surrounding it that never came naturally to me. All the other parts of being an artist. I'm more of an introverted person in general. It was always very hard for me. I took on board too much negative energy, I think.
After making the decision to remove himself from the touring life, Avicii said, "I just feel happy. I feel free at this point. Like I have my private life back and focusing on myself for the first time in a long time."
Check out the entire Gen Why series and other videos on Facebook and the Bustle app across Apple TV, Roku, and Amazon Fire TV.