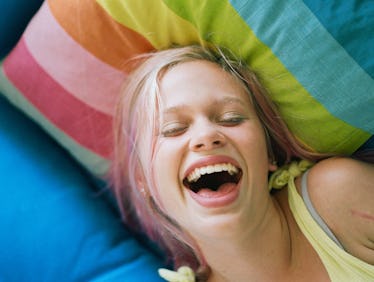 These 3 Zodiac Signs Will Have The Best Week & The Fun Is Just Beginning
Can you feel romance burning through your heart? Isn't there just something magical floating through the air? Without a doubt, this is the work of Venus entering beautiful, aesthetic, partnership-oriented Libra. It's irrefutable that this is one of the most swoon-worthy transits you'll ever experience. Why? Well, Venus is the planet of love, romance, friendship, and money. It also happens to be Libra's planetary ruler. When Venus moves through Libra, she's lighting candles, drawing herself a bath filled with rose petals and lavender oil, and singing along to some Lana Del Rey. Her heart is in just the right place, and she's the main reason why as of Aug. 6, this will be the best week for these zodiac signs: Libra, Sagittarius, and Pisces. Remember that if your rising sign happens to be in any of these signs, you'll probably be falling in love even harder.
Of course, we can't forget that Leo is still in season, and with such golden energy from the lion of the zodiac coupled with the refined beauty of Venus in Libra, you can bet that you'll be shining like a cloud of cosmic stardust this week. There's no better time to lock lips, bat your eyelashes, wear flashy outfits, and treat yourself to a snazzy manicure. If anyone tries to argue with that, refer them to Venus in Libra.
Libra: You're Attracting Babes Like A Magnet
How could you not be having the greatest week when Venus, your planetary ruler, has strutted its way over to your sign? Basically, this means you've become the sexiest and most desired creature on Earth, and everyone will be drooling over your romantic vibes. Don't be surprised if everyone starts fighting over you, because right now, you're the most fun and enjoyable person to be around. Expect your calendar to be fully booked very soon, as you're attracting admirers wherever you go. However, this can also invite energy vampires your way, so remember to put up boundaries and protect your energy if your gut is telling you that something feels off.
Sagittarius: You're Feeling Inspired To Explore The World
Do you feel the wind beneath your wings? Are you exploring the world with wild abandon? Do you have an insatiable desire to learn? Well, it's because the sun is in your ninth house of adventure, of course. This is your ruling astrological house, and as the sun shines its Leo light all over the area of your chart that you enjoy the most, you'll feel beyond comfortable in your own skin. It's time to leave monotony and boredom behind, gorge yourself on some fascinating sources of knowledge, taste new cuisines, and take Aladdin's hand for a magic carpet ride. You know you want to! Just make sure not to get too carried away, because Mercury retrograde will also be in your ninth house. Keep one foot in reality and the other in adventure and you'll be golden, baby.
Pisces: Your Powers Of Seduction Are On Fire
Your eye for beauty, darkness, and sexiness is especially keen this week, Pisces. If your soul is longing for lingerie, satin sheets, and a spiritually awakening orgasm, then you can thank Venus, for she's sending enticing heat to your 8th house of mystery, sex, and all things taboo. Now, this doesn't mean you're going to become a wonton sex maniac (unless that's your thing, because Venus would never judge you for that). Sex in the eighth house is more about enlightening yourself spiritually, moving past inhibitions, and opening yourself up to the unknown. In other words, this isn't going to be just any ordinary sex. This is going to be sex of the mind, body, and soul. Whether you have a partner or not, you're going to feel Venus' seducing every fiber of your being.