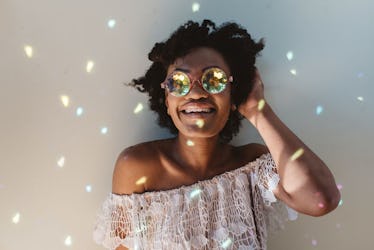 These 3 Zodiac Signs Will Have The Best Week, So Shake Off The Cosmic Chaos
Everyone, take a deep breath and exhale all that stress you've been carrying, because as of this week, a huge chunk of the cosmic chaos will come to an end. If you've been feeling weighed down by so many heavy celestial bodies rolling backward, then I'm here to alleviate your load when I say that Mercury will finally begin moving direct as of Aug. 19. Since Mercury is possibly the most annoying retrograde experience of all, this will sweep your entire world with peace and calm. And luckily, we've still got a few weeks of gilded and sparkling Leo season left, so there's no reason why you shouldn't be living it to the fullest. Especially because, starting August 13, 2018, this will be the best week for these zodiac signs: Leo, Libra, and Sagittarius. If you want to see how far your prosperity goes, check to see if your rising sign is in any of these signs as well.
I know we're also coming away from a dizzying eclipse season, and you're probably undergoing changes that you don't even realize yet. However, all the mayhem is fading into the past, and soon, your new world will begin to make sense once again. For now, relish these last few weeks of summer, because so much of the drama is now over.
Leo: You're Blossoming Into A New And Beautiful You
I know Leo season hasn't exactly been the relaxing and luxurious experience you were probably hoping for. Instead, the pressure from the universe has been real, and with both Mercury retrograde and a partial solar eclipse in your first house of character, it's clear that the cosmos want your solar return to be meaningful. You're in the process of shedding the dead weight in your life and replacing it with something so much more interesting. Now that these hairsplitting events are coming to a close, you'll get to experience the Leo season you've been hoping for. The one where you're crowned royalty, completely in love with everything about the person you're becoming, and excited for the future.
Libra: You're Dazzling With Self-Love And Everyone Knows It
With Venus, your ruling planet, continuing to spread beautiful and romantic vibes throughout your first house of the self, you're seeing the world in the exact way you enjoy seeing it. You're seeing possibilities, affection, love, and poetry at every corner, making you feel so happy to be alive. Even though the partial solar eclipse may have caused confusion in your 11th house of community, possibly making or breaking friendships, you're trusting in what the future holds, because you know that wherever you're going, and whoever you're going there with, will make it all worth it. In the meantime, take comfort in your charming and loving ways, which are currently more powerful than they have been in a long time, sweet Libra.
Sagittarius: You're About To Skyrocket Into Outer Space
Now that Mercury retrograde is about to end in your ninth house of expansion and philosophy, there is nothing holding you back from exploring the great beyond in all its glory. You're the adventurer of the zodiac, the person everyone can rely on to have the courage to try something new or travel somewhere exotic. When your ruling astrological house is being powered by both the sun and Mercury (sans retrograde, of course), you might even feel yourself sprouting wings that take you all the way up to the sky. Now is the time to get out there and be your boldest and most unapologetic self. Nurture your voracious appetite for knowledge and experience. The rest of the world admires you for it.