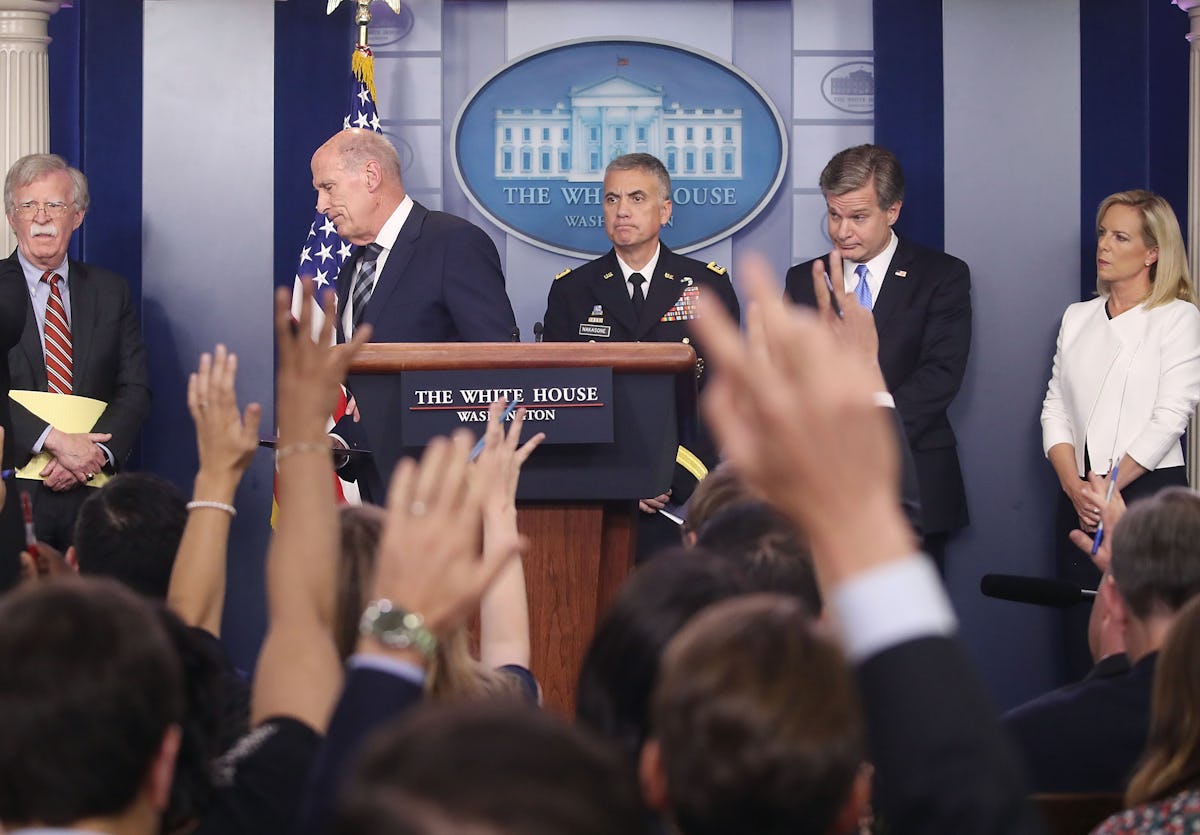 Interference In The 2018 Midterm Elections Is Happening, Officials Say, So Pay Attention
Mark Wilson/Getty Images News/Getty Images
Efforts to interfere in the American electoral process are far from over, according to top U.S. officials. At the White House press briefing on Thursday, Aug. 2, the heads of national security and intelligence agencies each briefed reporters as voters are preparing to head to the polls in under 100 days. Attacks on the 2018 midterm elections are underway, officials said, and emphasized that President Donald Trump had directed them to take actions against them.
In what appeared to be a surprise appearance, multiple security officials joined the Thursday afternoon briefing to warn about attacks on the electons. Speaking about threats against the nation's upcoming elections, the officials didn't dance around it, warning that the attacks "targeting elected officials," "manipulating news stories, and "escalating divisive issues," per FBI Director Christopher Wray. He said that government agencies were working together to address the threat.
"The intelligence community continues to be concerned about the threats of upcoming U.S. elections, both midterms, and the presidential elections of 2020," Director of National Intelligence Dan Coats said. "In regards to Russian involvement in the midterm elections, we continue to see a pervasive messaging campaign by Russia to try to weaken and divide the United States."
Asked whether the attempted Russian interference in the midterms favored one party or another, Coats said that "Russians are looking for every opportunity — regardless of party."
To drive the point home, Coats and Wray were joined at the press briefing by a number of other high-level security officials, including Department of Homeland Security Secretary Kirstjen Nielsen, National Security Agency Director Paul Nakasone, and National Security Advisor to the President John Bolton.
The officials cited findings by the intelligence community that Russia had attempted or successfully hacked numerous U.S. targets in the 2016 presidential elections. Nor was Thursday the first time these officials had warned that Russia's effort to undermine U.S. elections were ongoing.
The officials' remarks come after Facebook on Tuesday announced it had removed another 32 pages it had identified as "bad actors," violating the platform's policy by engaging in "inauthentic" coordinated behavior. The pages, which had almost 300,000 followers combined, had been hosting events, sharing posts, and even running paid ads for a year, according to a statement from Facebook. The company said that it couldn't speak to who had been behind the pages, including whether or not the pages were run by Russian agents.
"We're still in the very early stages of our investigation and don't have all the facts — including who may be behind this," a statement from Facebook read. "But we are sharing what we know today given the connection between these bad actors and protests that are planned in Washington next week."
In April, the company had also removed another 270 accounts it believed to be connected to Russia-based Internet Research Agency (IRA). IRA was referenced as being in connection with some of the 12 Russian nationals who were indicted by FBI Special Counsel Robert Mueller in February for a "sustained effort" to hack Americans ahead of the 2016 elections. In September 2017, Facebook had also identified some 3,000 ads purchased by pages and accounts it had determined as inauthentic had been created by Russians.
Last month, it was discovered that Democratic Sen. Claire McCaskill had been a target of attempted hacking by Russians in her bid for reelection.
The officials said, however, that President Donald Trump had instructed them to ensure the election was safe ."The president has specifically directed us to make the matter of election meddling and securing our election process top priority," Coats said. Bolton, for his part, added that the president's stance on the issue had been clear.
However, the president has said some mixed things. On July 16, President Donald Trump said at a joint news conference with Russian President Vladimir Putin that the latter had been "extremely strong and powerful in his denial" of any interference in the election, despite the fact that the U.S. intelligence community was in agreement that Russia did interfere. Trump later walked back his comments, appearing to uphold his own intelligence agencies' findings, but then doubled down a couple of days later by stating his intention to invite Putin to the White House. Trump has also appeared to deny that Russia might intend to meddle in the midterms, although the White House later said that Trump did not mean to comment on any Russian involvement, and was in fact saying he would not answer more questions.
According to a Politico survey, most states in the country are still plagued by gaping holes in their security, leaving them particularly vulnerable to such attacks. So this is still a very real concern. Hopefully, the efforts to address it will be fully effective.