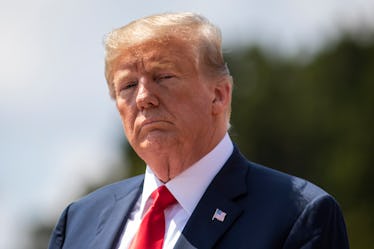 Donald Trump Undermined U.S. Intelligence About Russia Again, So There Goes That
Dan Kitwood/Getty Images News/Getty Images
President Donald Trump just keeps on changing his tune when it comes to Russia's affairs with the United States. In the latest turn of events, Donald Trump's answer about Russia targeting the U.S. is kind of a mess, after he answered a reporter's question about if he believes that Russia is targeting the U.S. with what appeared to be a denial. If you're keeping up, that's yet another contrast to previous statements he's made this week. Try not to get dizzy here, guys, because it's... a lot.
During a meeting of his Cabinet on Wednesday, July 18, ABC reporter Cecilia Vega asked the president if he believed that the United States was still being targeted by the other nation. "Is Russia still targeting the U.S., Mr. President?" she asked — to which Trump responded, "Thank you very much, no."
Vega then followed up by restating the question asking if Trump "believe[d] that to be be the case," and Trump, again, said "no." It's all very surprising, considering he only just said on Tuesday, July 17 that he had "full faith" in the U.S. intelligence community, which has assessed that Russia is in fact targeting the 2018 U.S. midterm elections. Oh well.
However, when asked about the comment during a press conference hours later, White House Press Secretary Sarah Sanders attempted to clarify Trump's response. According to The Hill, she said she spoke with Trump about the controversial answer and he apparently explained to her that he was declining to answer further questions when he said "no."
"The President and his administration are working very hard to make sure Russia is unable to meddle in our elections as they have done in the past," Sanders explained, signaling that Trump does, indeed, believe the country poses a threat to the U.S.
Either way, the exchange certainly adds to the series of dizzying and conflicting statements Trump has made in the past few days when it comes to Russia's threat to the United States, as Trump's answer is not the first time in recent days he's appeared to contradict the U.S. intelligence community's consensus that Russia interfered in the 2016 presidential election and still has ongoing efforts to disrupt future elections. The answer also further fueled outrage surrounding his summit with Russian President Vladimir Putin.
On July 16, he seemed to side with Putin's denial that Russia meddled in the 2016 presidential election during a joint news conference with the Russian president. He said, "President Putin just said it's not Russia. I don't see any reason why it would be" — despite the clear conclusion from his intelligence agencies.
The next day, however, Trump sought to do some damage control on his comments after receiving wide backlash, insisting he meant to say he didn't see a reason why Russia "wouldn't" have interfered in the election.
"In a key sentence in my remarks, I said the word would instead of wouldn't," Trump explained. "The sentence should have been, I don't see any reason why it wouldn't be Russia."
Trump added that he accepts the findings of the intelligence agencies, but then he switched gears again by saying it still "could be other people" who interfered in the race. He said:
I have felt very strongly that while Russia's actions had no impact at all on the outcome of the election, let me be totally clear in saying that — and I've said this many times, I accept our intelligence community's conclusion that Russia's meddling in the 2016 election took place. Could be other people also. There's a lot of people out there.
With all this back-and-forth from Trump when it comes to this Russia debacle, there's a pretty good chance that this won't be the last of his confusing statements. But hopefully, he'll consider that all this damage control could actually be doing more damage than what's already done, and will leave this all in the past. Just a thought.