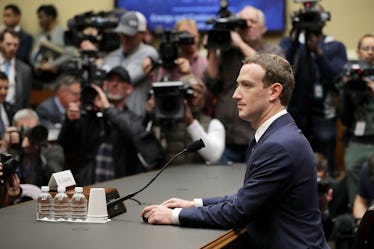 There Are Already Facebook Accounts Trying To Sway The 2018 Midterms, So Click Carefully
Chip Somodevilla/Getty Images News/Getty Images
On Tuesday, July 31, social media giant Facebook announced it had identified a continued effort to sow political discord in the U.S. before November. There are fewer than 100 days until the 2018 midterm elections, and according to reports, Facebook might be getting used to sway elections again. The company reportedly appeared on Capitol Hill this week to brief lawmakers on its findings and is working with federal officials on the issue.
Facebook released a statement Tuesday saying that it had removed 32 Instagram and Facebook accounts and pages that had engaged in "coordinated inauthentic behavior" in violation of its policy. The pages, which were created between March 2017 and May 2018, had been hosting events, running paid ads, and sharing posts for over a year. Facebook, which says it began to detect the accounts two weeks ago, wasn't able to confirm who may have been behind them, but after an investigation, took down content and events and began deleting accounts of what they call "bad actors" on Tuesday morning.
"We're still in the very early stages of our investigation and don't have all the facts — including who may be behind this," said Facebook in its statement. "But we are sharing what we know today given the connection between these bad actors and protests that are planned in Washington next week."
The removed pages were followed by about 290,000 Facebook users.
It wasn't determined, Facebook said, whether Russia was at the root of this political influence campaign. Of particular interest is whether Russian company Internet Research Agency (IRA), at the center an February indictment by FBI Special Counsel Robert Mueller for allegedly interfering in the 2016 U.S. elections, was also involved in the latest accounts to be taken down.
Among the content Facebook deleted Tuesday was an event by a page called "Resisters" for a "No Unite The Right Rally 2 - DC," presumably meant to be a counter-protest to the sequel of the white nationalist gathering that took place in Charlottesville in August 2017 that ended in deadly confrontation.
Referring to the fake accounts removed Tuesday, Facebook added,
It's clear that whoever set up these accounts went to much greater lengths to obscure their true identities than the Russian-based Internet Research Agency (IRA) has in the past. We believe this could be partly due to changes we've made over the last year to make this kind of abuse much harder.
Tuesday's announcement represented yet another round of purging the company had made to remove false accounts aimed at influencing U.S. elections. In April, the Times reported, Facebook had removed 270 accounts explicitly because of their links to the Russian agency.
Tuesday's admission by Facebook also comes as Mother Jones ran a cover story on July 31 about the continued vulnerability of the electoral process to outside influence. And on July 26, it was reported that Missouri's Democratic Sen. Claire McCaskill was also the target of an attempted hack by Russians during her reelection campaign.
"We know that Russians and other bad actors are going to continue to try to abuse our platform — before the midterms, probably during the midterms, after the midterms, and around other events and elections," Facebook's head of cybersecurity Nathan Gleicher told reporters earlier in July, per the Times.
Despite findings by the U.S. intelligence agency, Trump, in a July 16 press conference with Russian President Vladimir Putin, cast doubt on Russian interference in the 2016 U.S. election. "I have great confidence in my intelligence people, but I will tell you that President Putin was extremely strong and powerful in his denial today," Trump told the media in Helsinki. Just three days prior, on July 13, the Justice Department indicted another dozen Russian nationals on charges related to an alleged "sustained effort" to interfere in the election.
Facebook said in its statement that it will continue to provide additional details as they become available, but for now will be notifying users that had responded to event invites created by the fake accounts which were removed.