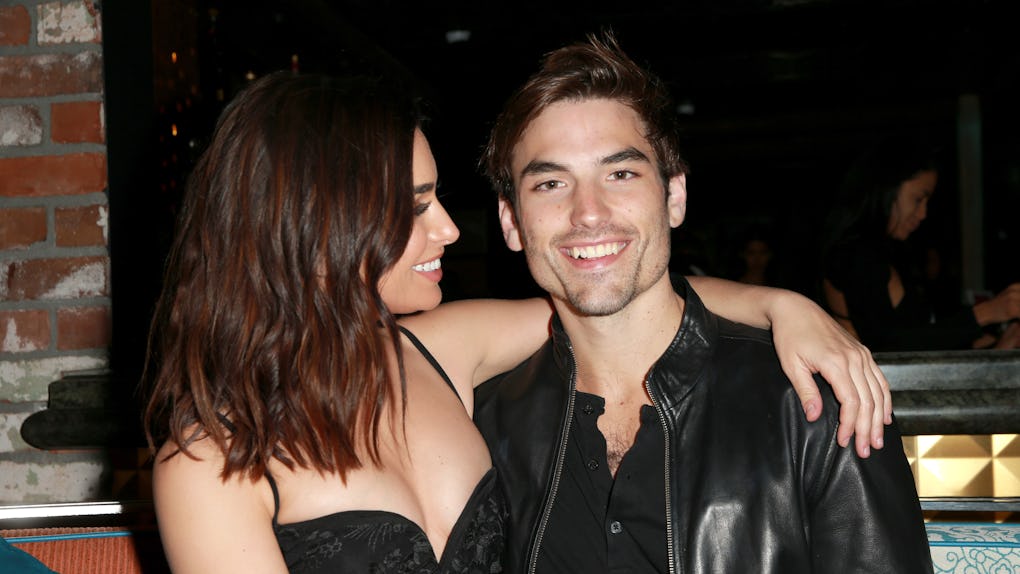 Rich Fury/Getty Images Entertainment/Getty Images
Ashley Iaconetti's Quotes About Jared Haibon Show Just How Meant-To-Be The Couple Truly Is
If you're a member of Bachelor Nation, then chances are, you've heard of a certain couple that almost didn't even happen. Yes, Ashley I. and Jared are seriously cute, and more, Ashley Iaconetti's quotes about Jared Haibon prove that the couple that almost wasn't might just have the best love story ever.
Now, I'm personally a Bachelor Nation virgin, and Arie Luyendyk's season was the first I watched. So, learning about the magical relationship between Iaconetti and Haibon was seriously life-changing for me. I mean, who doesn't dream of falling in love with someone and have them finally realize it years later? Ugh, so cute. But, in case you need some clarification on their relationship, allow me to fill you in.
Iaconetti and Haibon actually met during season two of Bachelor in Paradise back in 2015. At the time, they were each fresh off the heels of their own breakups on The Bachelor and The Bachelorette, respectively. So, it's understandable that they wouldn't immediately get together. In fact, they left the show as just friends, although Iaconetti made it clear that she had feelings for Haibon.
So, now, three years later, they've finally gotten together, and they're engaged! So, really, their love story is years in the making, and Iaconetti's quotes about her boo show how happy they are to finally be together.
When they first met, she just knew.
On her YouTube show, The Story Of Us, Iaconetti usually interviews couples about their own love stories. But this time, she opened up about her own relationship with Haibon, and how it all got started on Bachelor In Paradise. For her, it was love at first sight. "Seeing him at the bar, and like, it was the weirdest feeling, I was just so gravitated and drawn to him," she said in the video. "It was truly love at first sight. I didn't believe in love at first sight until then."
Yeah, it's OK if you need to grab some tissues. It only gets better from here, y'all.
But their first date wasn't exactly smooth sailing.
As most people can relate to, going on a first date with someone is pretty nerve-wracking. And even though Iaconetti was totally into Haibon, their first date on Bachelor In Paradise wasn't super perfect. "My interpretation of our first date is a little different. I was constantly scared of another girl coming in and catching your eye," she said to Haibon on their The Story Of Us, episode. "I was overthinking every little thing that came out of my mouth."
Same, girl. Same.
On their season of "BIP," things were complicated.
Iaconetti and Haibon both appeared and met on the second season of Bachelor In Paradise, although it was clear that Haibon wasn't too interested in a budding romance with Iaconetti. According to Us Weekly, Iaconetti said, "This is what romance novels are made of: Girl likes guy who doesn't like her," while on the show.
Little did she know that soon enough, she'd be swept off her feet by Haibon.
Iaconetti never wanted to give up on Haibon, though.
Bachelor In Paradise was tough for Iaconetti, as Haibon was honest with her that he just wasn't that into her. As Us Weekly reported, the heartbroken Iaconetti just didn't know what to do, as she truly felt Haibon was the one for her. "I've never felt for anyone the way I feel for you, so it's hard to let go," she said to Haibon on the show. "How am I supposed to find another you?"
Told you those tissues would come in handy.
She also knows what a great thing she has in Haibon.
After she and Haibon officially started dating, Iaconetti potinted out that she definitely knew how lucky she was to have him by her side. "All the girls hear him talk and lose their minds," she said to People. "Everybody needs a Jared! I said it on Bachelor in Paradise, and it's true because there needs to be more Jareds in this world."
She's really just so happy now, y'all.
Now that she and Haibon have been officially dating, and are planning on getting married, it's clear that the 30-year-old is living her best life. "I'm, like, the happiest ever. I'm just so concerned, like, when is life gonna turn around?" she said during an episode of her "Almost Famous" podcast with Ben Higgins, according to Us Weekly. "Like, it's been so good … Jared's always like, 'You know, it's not ever this good.' Like, this is crazy good. Since we've been dating in March, we haven't had any sort of fight yet."
Oh, and she totally appreciates how far they've come.
Since Iaconetti and Haibon's love story took a while to really unfold, Iaconetti totally realizes that it makes a difference in how they communicate and love each other. "I think it's almost romantic because it wasn't easy for a long time," she said, according to People. "We just could not be apart."
Ah, to be in love. Clearly, they've come a long way, and now that they're engaged, they only have more happiness to look forward to. And who knows? Maybe their wedding will be something we can all see for ourselves.
Check out the "Best of Elite Daily" stream in the Bustle App for more stories just like this!