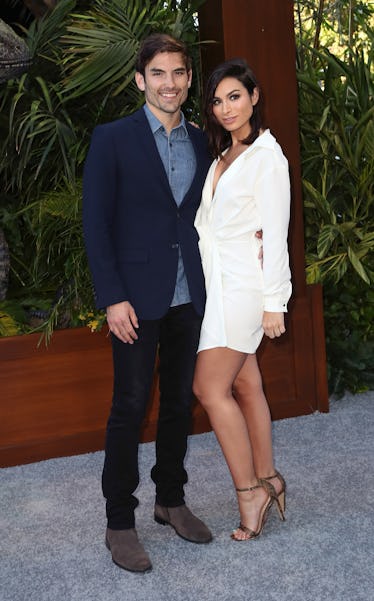 Here's Everything Bachelor Nation Should Know About Ashley I & Jared's Wedding
David Livingston/Getty Images Entertainment/Getty Images
Ladies and gentleman, Bachelor Nation's unofficial prom king and queen are actually getting hitched! After a long, tearful, and rocky road to true love, Ashley Iaconetti and Jared Haibon realized they were meant to be and are now planning to get married. The proposal went down on — where else? — their Bachelor in Paradise appearance Sunday in Mexico. The nature of the engagement leaves me (and Bachelor fans) with one major question: Will Ashley I and Jared have a TV wedding?
Ashley and Jared have not revealed whether their nuptials will get some sort of ABC special extravaganza at this time. Their relationship has been pretty public up to this point, so it's hard to imagine that the "I dos" won't get some sort of feature on the long-running franchise. The delightful duo outlined their love saga in detail for KineticTV's The Story of Us, which happens to be hosted by Ashley. The 44 minute clip took viewers on their in-depth journey from beginning to May 2018.
"I'm living proof that you should listen to your gut, and that it's not too late," Haibon gushed. "The person I wanted to be with most was right in front of my eyes."
Ashley and Jared haven't dished on wedding plans, but Bachelor Nation is obviously hoping to see fan fave Ash walk down the aisle and get her on-screen happy ending. Lauren and Arie are the other most recent Bachelor couple to get engaged, but they're opting out of the whole televised thing, choosing a more intimate affair in Hawaii this coming January.
"I'm sure we'll include the wedding in some way in the show, and we'll have Arie and Lauren on one of our specials. You can never leave The Bachelor family," ABC exec Robert Mills told Variety last month.
Paradise success story Carly Waddell and Evan Bass famously got hitched in front of cameras in a Chris Harrison-officiated ceremony — their wedding special aired on ABC last August. Maybe that will be Ashley and Jared someday?
Jade and Tanner, friends of Jared and Ashley who actually played a role in their love story, are another BiP match made in Mexico.
"Sooo happy for my friends @ashleyiaco and @haibon_jared! You both know Tanner and I love you crazy kids!" Jade gushed on Twitter following the couple's big announcment.
And while Ashley hasn't said yes to a dress at this early stage, she is a fan of the TLC and already knows what she likes and doesn't like. Of course, she has her now-fiance weigh in certain styles.
"Oh, well, you know what's funny? He'll watch Say Yes to the Dress with me. "It's actually crazy. I'm like, 'Do you like that? Do you like the princess gown? Do you like a mermaid? A fit and flare?' We definitely know that we don't like fit and flare," the charming TV personality told Entertainment Tonight.
Ashley Iaconetti hasn't been shy about her love of rom-coms — she's basically living in one — so maybe she'll take a page from the cinematic playbook and find inspo there.
"For me, it was really just at first sight," Ashley has said of how she knew Jared was the one. "I always knew that we had something that I had ever experienced before the first day I met him."
"She's Ashley I in this picture. But to me she's the future Ashley H.," Jared adorably tweeted on June 18.
Man, these two really are cute together, aren't they?
Bachelor in Paradise Season 5 premieres later this summer. Perhaps Bachelor Nation will get a good glimpse at Jared's proposal and more details about their upcoming wedding then. Congrats to the happy couple!