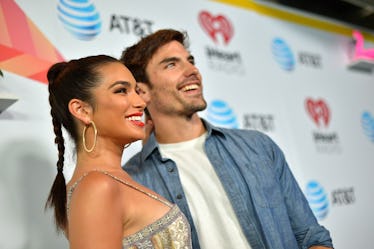 Ashley I & Jared Are Engaged & They're Clearly In Paradise
Charley Gallay/Getty Images Entertainment/Getty Images
Anyone who has spent years pining after the same person with no success felt a little victorious when Bachelor alum Ashley Iaconetti recently announced she was dating her longtime crush, fellow Bachelor in Paradise castmate Jared Haibon. I definitely shed a tear or two over their emotional video about their relationship, but I might be guilty of sobbing now. Ashley I. and Jared are engaged, and they clearly have no qualms about being a Paradise success story.
People reports that Jared got down on his knee to ask the big question on Sunday, when the couple was in Mexico filming a visit to the set of Season 5 of Bachelor in Paradise. In a full-circle moment, the proposal happened on the beach, but because cameras seemingly filmed it, the moment is already better than the majority of the beach proposals littering your Instagram feed right now.
We might not have a Paradise wedding to look forward to this year, but at least we'll get to see a proposal between two people who have known each other longer than most Paradise couples' customary three weeks. I wonder if their engagement episode will include a montage of Ashley crying but with a grand finale of her happy tears during the proposal. All of her Bachelor franchise appearances finally paid off!
The turnover between dating and getting engaged might have been a little crazy for a certain couple on Bachelor Winter Games (I'm still rooting for a Clare and Benoit reunion, TBH), but I feel even more shook about the speediness of Ashley and Jared's courtship. The longtime friends had a tumultuous start when they first met on Season 2 of Bachelor in Paradise, as Jared wasn't exactly into Ashley's insta-love for him. In the years since then, Ashley seemed to settle for Jared not reciprocating her romantic feelings, and they managed to maintain a close friendship.
However, for Jared, watching Ashley organize a charity event and show qualities that the Paradise world doesn't exactly allow to shine began to stir on his serious love for her. After Ashley's short-lived relationship with Winter Games co-star Kevin Wendt ended earlier this year, Jared sent her a letter finally explaining his true feelings for her, and words have power, y'all.
As the couple shared in late May's The Story of Us relationship announcement, the emotional letter was the catalyst in officially bringing them together. Ashley said in the video:
I was scream-crying basically alone in my apartment reading that just sobbing and sobbing. And since, he's written me other letters and filled my apartment with flowers. He tells me every day that he's the luckiest man alive ... my dad tells my mom that after 40 years. It's really nice.
As cute as these two are, the sudden engagement does contradict what the couple has previously said about taking their time before getting engaged. Clearly, if something is meant to be, there's no point in waiting, right? After all, Ashley and Jared had nearly three years of friendship behind them before dating. Soon after they confirmed their relationship, Jared told People:
As soon as we started dating, we both knew that this isn't just for us to date as boyfriend/girlfriend — this was more so we were going to date because we see a potential life partner in each other. We've talked about it but we're just dating right now, we're enjoying that. We literally just announced our relationship. The thing is, we've been so close for the past three years, I just know her inside and out. I know everything about Ashley.
The pace might be fast, but if anyone is prepared to make the transition from dating to engaged, Ashley and Jared seem to be the pair. Congratulations to them! I'm sure Chris Harrison will leave his calendar open so he can officiate the wedding.
Season 5 of Bachelor in Paradise will premiere later this summer on ABC.