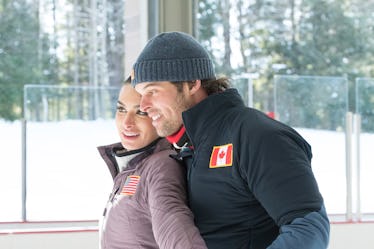 This 'Bachelor Winter Games' Couple Just Called It Quits & We're Heartbroken
ABC
If you aren't into the Winter Olympics, The Bachelor Winter Games came at just the right time. For four weeks, fans watched as pretty people from all around the world competed in a variety of snow-themed challenges and fell in love along the way (maybe it's not all that different from the actual Olympics). At the end, Ashley Iaconetti from the United States and Kevin Wendt from Canada came away victorious and in fully in love with each other. However, that post-Olympic glow must have faded: Entertainment Tonight reported Monday that Ashley I. and Kevin broke up after Bachelor Winter Games, ending what could have been the only Bachelor success story of the winter (ahem, ahem, Arie).
According to Entertainment Tonight, the distance between Ashley I. and Kevin just became too much to handle, especially after experiencing such a quick courtship. A source close to the couple said, "It was a little weird to have to figure out a long-term plan so soon. Ashley and Kevin were both really into each other, they just weren't sure if it was a forever thing. And it's hard to date long distance like that." Honestly, this is super relatable. Ashley I. lives in Los Angeles and Kevin lives in Canada, and despite being neighboring countries, I'm sure it was kind of a culture shock when the couple left the Bachelor Winter Games bubble. Long distance relationships are hard, and they're even harder when you're dating someone you met on a 10-day long reality TV shoot who also happens to be from an entirely different country.
Sure, I'm sad for Kevin, but I'm particularly sad for Ashley I., who has yet to find a relationship that sticks. After appearing on two seasons of Bachelor in Paradise and Chris Soules' season of The Bachelor, Ashley was clearly so excited to have won and actually be in a relationship. "We won! I am a Bachelor success story!" Ashley said in the finale before admitting that it took "three years and gallons of tears," to get to this point. "Winning the title, and winning a guy as great as Kevin. I think Kevin and I are probably going to have Fantasy Suite round two tonight."
Ashley I. has talked about being a virgin on The Bachelor for years, but during the Bachelor Winter Games finale, it seemed like she finally was ready to enjoy some Fantasy Suite time with Kevin. She's kept quiet about whether or not the two actually had sex (you go girl for putting up boundaries), but regardless of what happened, the two had some serious chemistry on the show, and it's sad to see that their relationship didn't work out IRL.
The news of their breakup is even more surprising because in the weeks since the Bachelor Winter Games finale, Ashley I. and Kevin have posted nothing but cute, couple-y pictures. On Friday, Ashley posted a sweet pic of her then-boyfriend, saying, "The way @kevin.c.wendt wants to take care of his lady's heart is so beautiful."
Last Tuesday, Kevin posted his own cute pic of Ashley for her birthday, writing, "She's the most driven, motivating, and supportive person I know."
If you're interested in learning what went wrong for the American-Canadian Bachelor Winter Game winners, Ashley I. will be discussing their breakup on the next episode of her podcast, The Ben and Ashley I Almost Famous Podcast. According to Entertainment Tonight, Kevin will join his ex on the show, giving the duo a chance to "explain what happened between them and what's next."
Wow, is Ashley I. growing up? Let's hope this sticks, because I'd love to see this newly mature, now-single Winter Games winner on another season of Bachelor in Paradise.