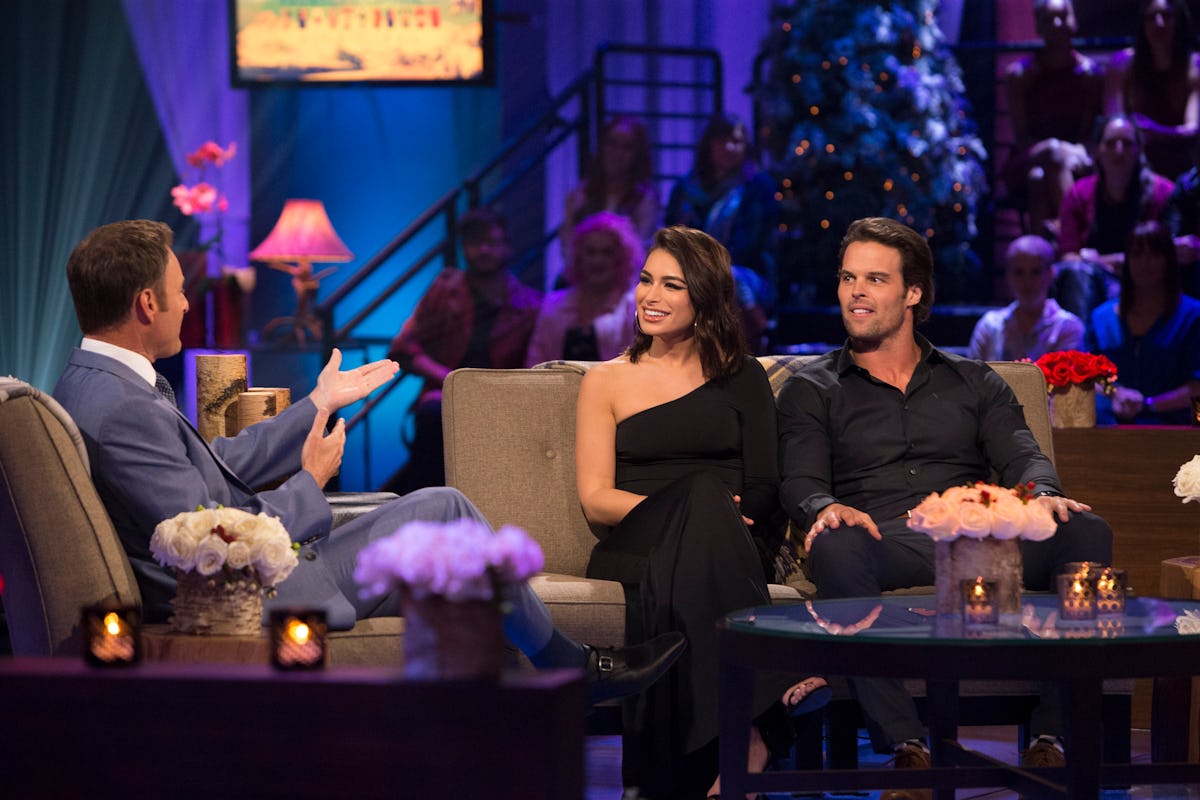 Ashley I. Went To The Fantasy Suite On 'Bachelor Winter Games' After Getting Honest AF
ABC
If there's anything a devout Bachelor fan knows, it's that Ashley Iaconetti has never been shy about the fact that she's a virgin. Making her franchise debut on Chris Soules' Bachelor season, her virginity became one of the key early storylines, and the title of "the virgin" proceeded to follow her in all of her spinoff appearances. However, Bachelor Winter Games presented Ashley with her first true shot at romance with Canadian contestant Kevin, and given those sneaky hints in the finale, did Ashley I. lose her virginity to Kevin?
The notion has been teased since the beginning of the season, with Ashley saying in one of the early promos, "A virgin's got to do what a virgin's got to do!" But, seeing as Ashley has cracked jokes like these for years on TV, it was easy to brush off the moment and tell ourselves that she just got herself into some drama once again.
However, my memory of that teaser was flashing when the four remaining couples in Episode 4 were given overnight dates and Kevin and Ashley didn't hesitate in accepting theirs. The details about what went down in the fantasy suite weren't shared in the finale — nor should they be if Ashley doesn't want the world to know about her personal life — but she did open up a bit in an interview with Us Weekly.
Although Bachelor Nation has gotten so used to Ashley and other contestants being open about their dating lives through social media and many a podcast series, Ashley later told the magazine at the taping of the reunion that she was maintaining an element of privacy.
I know what everybody's million dollar question — have we or have we not? — but I will never, ever, say yes or no to that question. Just because I've been public about it in the past doesn't mean that I can't make something private once somebody else is associated in that topic of my life.
It seems that remaining private is something Ashley is extremely dedicated to, and that's a great sign of the strength of her relationship with Kevin. Major hints of their solidness as a couple were evident in the conversation they had on their date. Ashley told Kevin that she respected him for being so comfortable about her being a virgin, and he even expressed that her being a virgin would make her first time just that much more enjoyable.
The next morning, despite a cozy shot of the couple in bed together, Ashley told the cameras that she was going to handle the matter of her virginity with the privacy she deserves. Honestly, props to you, girl. These contestants often offer up so much of their lives that details like these should be private if that person wishes them to be.
At the World Tells All special following the finale, Bachelor Winter Games winners Kevin and Ashley confirmed that they were still a couple and that Kevin is currently staying with her while in L.A. for the show's press. The two even hit the town for a Valentine's Day date, so like with Dean and Lesley, their relationship was semi-public before any confirmation of it was allowed.
In a respectful turn that's not too ordinary for The Bachelor, Chris Harrison never pressured Ashley to say if she was still a virgin. Instead, he allowed Ashley to share about how so many girls approach her about the decision to stay a virgin until they find the right guy. It's easy to forget because of how long Ashley has remained within the franchise, but many fans do admire her for this part of her life. It definitely felt right for her to stay true to them until the end and keep the actual details private.
Reminding me why I do like Ashley in her more rational moments, she also told Chris that she made it clear that she wasn't going to have sex with someone before she felt ready. Kevin agreed with this viewpoint, and the two seemingly locked their lips on the subject, emphasizing that their private lives were only exclusive to them. In the end, they just needed cheeseburgers, champagne, and each other for an enjoyable fantasy suite.
The pair also revealed to Us Weekly that they're dating long-distance, regularly FaceTime with each other, and that firefighter Kevin is even looking into fire departments in Los Angeles to be closer to Ashley.
He, too, revealed that their fantasy suite time was actually dedicated to getting to know each other even more.
It was just important to be alone and get to know each other better. Our sex life — or however we are now — has nothing to do with any coverage and I just wanted the Fantasy Suite to be about me and her finally getting alone and having some alone time to talk and have fun together.
The couple is definitely keeping the prying eyes of Bachelor Nation out of their bedroom(s), and I couldn't be more respectful of that. Kevin and Ashley have already achieved the extreme by falling for each other on TV, and now is their time to step away from the cameras and build their relationship even more. Good luck to these two!