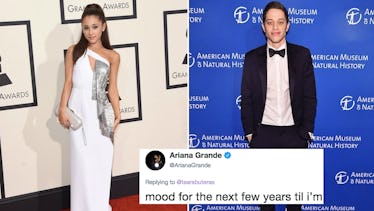 Ariana Grande Is Already Opening Up About When She Wants To Have Kids With Pete Davidson
Jason Merritt/Michael Loccisano/Getty Images Entertainment/Getty Images
Have you been following Ariana Grande and Pete Davidson's whirlwind romance? LOL, who am I kidding, of course you have. It's as if they've wrapped up a decade of adoration and affection into about 10 minutes, and say what you want, but it's entertaining as hell to watch this love story unfold. We've watched Ariana and Pete send each other all the heart-eye emojis on social media. We've seen the two gush about moving in together after about 8 minutes of dating. And now, we're finally witnessing something just as glorious: the discussion of little Grande-Davidson babies. That's right, Ariana Grande's tweet about having kids with Pete Davidson will make you sort of swoon.
A very, very brief synopsis of what's been going down the past few weeks with our girl Ariana Grande and SNL comedian Pete Davidson: The pair began dating in early May 2018, when the news of their relationship broke via E! News with a source telling the outlet that Grande and Davidson were only casually dating. Fast forward just a few weeks into their relationship to when a report from Us Weekly revealed that the two "were telling people that they're engaged" while celebrating Robert Pattinson's birthday party in Los Angeles on Saturday, June 9.
From there, things only sped up (kind of hard to believe, but there you have it.) Pete Davidson commented about his engagement to Ariana Grande on The Tonight Show on June 20, and on that very same day, a report from People revealed the two are NOT taking things slow (shocker) when it comes to living together, and reported that the pair moved into a luxury apartment building in New York City, which offers super casual apartment-style amenities like an on-site fitness facility, a juice bar, a 75-foot indoor pool, and a private spa suite.
My first apartment that I moved into with my now-husband had a washer and a dryer, so I feel like I am totally on par with Grande and Davidson's lavish new digs.
She even used a Spongebob Squarepants meme on her Instagram story to describe her moving adventures:
LOL, nice.
So now that the two are living together and planning a wedding, the next thing that is on everyone's mind is the idea of starting a family. Normally, this would be a question that you wait a few years before talking about with a couple. But considering these two are moving at actual warp-speed, it seems like maybe they'd play into the idea of having kids sooner rather than later.
Grande was quick to smash anyone's hopes or dreams for a quick pregnancy, basically confirming that she'll most likely wait a few years for any little Pete or Arianas to be running around.
One user posted an altered photo of Grande's Sweetener album cover, and riffed off the Spongebob Squarepants meme by writing, "aRiAnNA Is PreGnNanT":
And yep, our girl Ariana responded back, writing:
mood for the next few years til i'm actually ready #fertilequeen
Damn, homies, she really went there!
I've gotta hand it to Grande: she's been super open with her fans, which I truly appreciate. So open, in fact, that she even candidly spoke about some, erm, intimate information regarding Pete on Twitter.
When a fan asked Grande how long "Pete" is — meaning the interlude song that Grande named and dedicated to her fiancé — Grande got pretty cheeky and revealed the length of another kind of Pete. Grande said:
like 10 inches? .... oh f*ck .... i mean .... like a lil over a minute
WELL ALRIGHTY THEN.
So now that we know more about Ariana Grande and Pete Davidson (emphasis on Pete, TBH) and their aspirations for their relationship in the future, I'm just going to sit here patiently waiting for the next big announcement from them. Maybe it won't be babies, but I know they've definitely got more surprises for us up their sleeves.