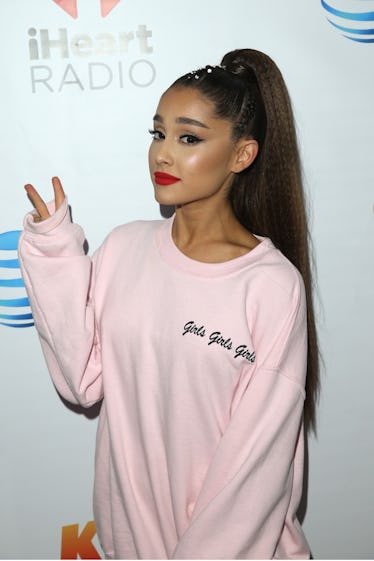 Ariana Grande Just Gave A Post-Breakup Update That Reveals The New Love Of Her Life
Jesse Grant/Getty Images Entertainment/Getty Images
If you're still mourning the loss of Ariana Grande and Pete Davidson's relationship, you're not alone. It's been almost two weeks since their whirlwind romance came crashing down before us, and it was a flame that burned too bright and was put out too soon, if you ask me. On Sunday, Oct. 14, it was revealed that the newly engaged couple had reportedly split, and, while it was a tough pill to swallow, it seems like both Grande and Davidson are trying to move on from the relationship that started quickly, and the engagement that ended even quicker. And now, this Ariana Grande post-breakup update from Twitter will probably confuse you at first, but then make you smile, because it seems like Ari is trying her best to move on in a pretty adorable way.
It's been a hot minute since the "God Is A Woman" singer went on a Twitter spree, and on Wednesday, Oct. 24, she gifted us all with a hearty handful of tweets. Grande tweeted a ton of responses to her fans about new music on the horizon (which is reportedly coming soon!), the status of her pet pig, Piggy Smallz, and, most importantly, an update on how she's doing after her breakup with Davidson, who proposed to Grande back in June just weeks after they began dating.
One Twitter user wrote to Grande, asking, "can u tell me how u doin fr," to which Grande responded, saying, "better dis week ily v much":
If you're like, wait a sec, she only mentioned that she's doing a bit better this week, so where is this so-called new love of her life? WHERE ARE THEY, HUH?!
Well, it turns out we already know her pretty well... considering it's the aforementioned Piggy Smallz. So no, there's no real "new" love of her life that she's dating, but the Twitter exchange was actually pretty cute. One Twitter fan asked, "how is piggy smallz bb," to which Grande replied, "the absolute love of my life ............. i have no idea what i did ...... to deserve her":
So, look, while it's pretty obvious that Grande doesn't have a new romantic interest in her life, it's nice to hear that she's actually doing OK after her split.
The last time we received an update from Grande, it was back on Oct. 15 when she posted a now-deleted Instagram story. According to E! News, she reportedly wrote, "Ok today was v special and i'm so grateful i was able to be there," most likely referring to her taping NBC's A Very Wicked Halloween. She continued, writing, "Time to say bye bye to the internet for just a lil bit. it's hard not to bump news n stuff that i'm not tryna to see rn. it's very sad and we're all tryin very hard to keep goin. love u. and thank u for bein here always."
Grande then posted in another Instagram story that has since been deleted, reportedly writing, "Can't believe I almost let my anxiety ruin this for me today!! Not today satan! Not tomorrow or the next day either not no more u can suck my big green d*ck. finna sing my heart out and be a big walking vessel of love bye."
Here's hoping that our girl keeps her head up when the going gets tough. And, if things are too much for her to bear, at least she's got her precious lil Piggy Smallz to make things a bit better.