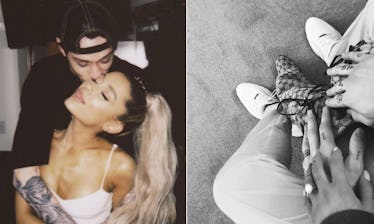 Ariana Grande Just Commented The Sweetest Thing On Pete Davidson's Engagement Instagram
Instagram/ArianaGrande; Instagram/PeteDavidson
It feels like it was just yesterday when we were all learning that Ariana Grande and Pete Davidson were even a thing romantically. Okay, their romance has been going on (publicly) for about a month now, but can you really blame the internet for being in a straight-up tizzy over the fact that on Friday, June 15, Davidson seemingly confirmed the new couple's rumored engagement on Instagram? And now, Ariana Grande's comment on Pete Davidson's engagement Instagram will take you one step further into your tizzy, because it's seriously the sweetest thing.
In response to Davidson's post captioned, "u know what you'd dream it be like? it's better than that," Grande wrote, "so much better," with a little heart and clouds emoji. OK, say it with me now: Awwwwwww.
I'm beginning to think that when these two communicate privately, it's exclusively through cloud emojis. After all, the couple tends to drop cloud emojis in many of their Instagram posts about each other and they even seemingly have matching cloud tattoos. So, clouds are pretty much their thing. And I'm going to take a wild guess that their ~song~ is either "Dance To This" by Troye Sivan and Grande, or "Bed" by Nicki Minaj and Grande. Fans took a deep dive into the lyrics of both of Grande's new tracks and didn't have any trouble finding references to her new boo in both. Are the fans right that Grande is shouting out Davidson? Maybe. Maybe not. But they haven't denied it, so let's just pretend Davidson is Grande's new muse, okay?
Anyway, back to the main event: Davidson seemingly just confirmed his engagement to Grande with his latest Instagram. I mean, why else would the photo focus on their interlocked hands with Grande's huge rock shimmering front and center?
And if it wasn't a confirmation of their engagement, why, instead of asking Davidson to please chill out with all the gushing on Twitter (lest more people go on thinking they're totally getting ready to walk down the aisle), did Ariana respond like this?
Totally fanning the flames, right?! Elite Daily has reached out to Grande and Davidson for confirmation on the engagement reports, but did not hear back by the time of publication.
This is not the first time Grande and Davidson have gushed about each other on social media. While some celebs like to keep their new relationships low key, these two hit the ground running with their sweet social media posts about each other. And Grande will be the first to admit the pair can be a bit extra.
On June 9, she took to Instagram to post the most tongue-in-cheek response to the chatter and speculation surrounding her frequent posts about Davidson. "i am but a pete davidson update acc stay tuned for more (pete follows / comments sumtimes)," she captioned a photo of the pair together.
In other words, don't expect the fawning all over each other on social media to stop any time soon.
And you know one person who definitely approves of Grande and Davidson's 0-to-100 romance? Grande's fellow Nickelodeon alum, Nick Cannon. Apparently, the comedian was one of the first people Davidson called when he was planning to propose to Grande. And considering he famously tied the knot with Mariah Carey after only a few weeks of dating back in 2008, it shouldn't be surprising that he's got nothing but love and support for Grande and Davidson in these exciting times. In an interview with Entertainment Tonight, Cannon recounted his phone call with Davidson, saying,
He called before he was going to do it, and I said, 'Salud!' He was really excited, so I was like, 'I love it, man. Keep it going.' Love is in the air!' I've been one of those dudes with one of those fantasy, fantastic relationships where you just go off and get married. So I was like, 'Do it!' I don't think [there's such thing as too soon]. But I'm a hopeless romantic, or as I say, a fearless romantic. I just like to jump into it, and sometimes it can get you in trouble, but it makes for some great stories.
Grande and Davidson can add Cannon to the endless list of shippers that are beyond excited to see the pair walk down the aisle.
Does this mean we can expect a TV special à la the royal wedding? It's only appropriate, no?