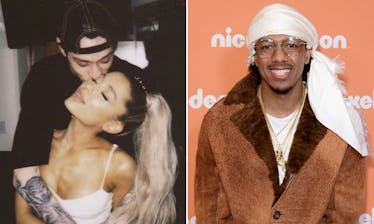 Nick Cannon Opened Up About How Pete Davidson Told Him He Was Proposing To Ariana Grande
Instagram/ArianaGrande; Andrew Toth/Getty Images
Now that I've had some time to adjust to the fact that Ariana Grande and Pete Davidson are engaged — who am I kidding I will NEVER be over this little slice of awesomeness — I just have two questions: 1) Will their wedding be Harry Potter themed? And 2) Will Daniel Radcliffe be officiating? Because OMG how amazing would all of that be? On second thought, maybe the better question is actually: Will Nick Cannon officiate Pete Davidson and Ariana Grande's wedding? Because as it turns out, Davidson called Cannon before he proposed to Grande, so it looks like these two are mad tight.
The two stars apparently go way back to Cannon's radio hosting days in New York. And, like, did you even know he once had a radio show, because I didn't. "This kid called in one day, 15 years old and said, 'I want to open up for you doing stand-up,'" Cannon recalled to Entertainment Tonight. "I was like, 'Yeah, all right, tell me a joke.' He told me a joke and I was like, 'This kid is pretty funny...' I took him on the road with me."
Cool story, bro. And since Cannon is no stranger to whirlwind marriages himself, it def makes sense that Davidson hit him up before popping the question.
"He called before he was going to do it, and I said, 'Salud!'" Cannon explained. "He was really excited, so I was like, 'I love it, man. Keep it going.' Love is in the air!"
Aww, that's actually so cute. Cannon and Carey famously tied the knot after just a few weeks of dating in 2008. The couple went on to have two kiddos before splitting in 2016, but still remain friends.
"I've been one of those dudes with one of those fantasy, fantastic relationships where you just go off and get married," Cannon said. "So I was like, 'Do it!' I don't think [there's such thing as too soon]. But I'm a hopeless romantic, or as I say, a fearless romantic. I just like to jump into it, and sometimes it can get you in trouble, but it makes for some great stories."
I don't doubt it! Oh and get this: The actor would totally be down for getting tapped to officiate Davidson and Grande's wedding, and I cannot even begin to imagine how epic that would be. "I think they're outstanding," he explained. "They're young people in love and you can't knock that. It's like The Notebook. I'm up for all weddings. I'll officiate. I don't know how long they'll last if you let me do it, but I'm up for it."
BAHAHA. Funny stuff, Nick! Seriously, though, how do we make this happen, you guys? HOW?! I am so here for the bromance between Cannon and Davidson. And having his buddy officiate the ceremony would totally be like that time Joey officiated Monica married Chandler's wedding on Friends. CLASSIC.
Only, you know, without the World War I costume, the pregnancy scare, and with real people instead of TV characters.
Anyway, no matter who ends up pronouncing these two husband and wife, I think it's safe to say Grande and Davidson are pretty much the cutest couple ever.
Never stop posting, guys! Never. Stop. Posting. Still have no idea what to call them, though, so let's take a look at a few of the options. There's Pariana. Eh. Arianete? Pass. Grandavidson? Meh. Grandson? That last one is kind of funny, but let's be honest, it's no Zigi. Given their public displays of affection on social media, I'm actually thinking "PDA" may be the way to go.
It's pretty good, right?