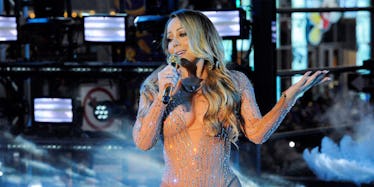 Nick Cannon Has His Own Theory About Ex Mariah Carey's New Year's Eve Fail
REUTERS
Nick Cannon may have been the one to file for divorce from Mariah Carey back in 2014, but it looks like he's still got her back.
The actor and comedian appeared on "The Ellen DeGeneres Show" to speculate about that New Year's Eve performance in Time's Square.
You remember the one? She appeared to forget all the lyrics to her hit song "Emotions," making for a pretty cringeworthy start to 2017.
Nick joked it was all the government's fault. He said,
You know me, I'm a conspiracy theorist – I think the government did that, they set her up. That was a distraction.
Then he gave a proper explanation, which actually makes a lot of sense.
He continued,
Anyone who knows about performing and having inner ears and stuff, things like that can go wrong a lot – I do live television all the time, I screw up on 'America's Got Talent' all the time. So when there's people in your ear saying things and stuff and I think she kind of got a little flustered, but being the diva that she is, she said 'I'm just going to walk around and pose for seven minutes.'
So just as we suspected then: Mariah Carey is a massive diva and can do whatever she wants because her sass is immeasurable.
At the time, Mariah responded in the most Mariah way possible:
Shit happens... Have a happy and healthy new year everybody!
But she's since claimed she will take a break from social media.
Mariah posted an audio clip on Twitter saying she came to the NYE event in great spirits, but was put into the hands of a production team that messed up her performance.
She said,
Listen guys, they foiled me. Thus, it turned into an opportunity to humiliate me and all those who were excited to ring in the new year with me.
Come back, Mariah. The world needs your SASS.