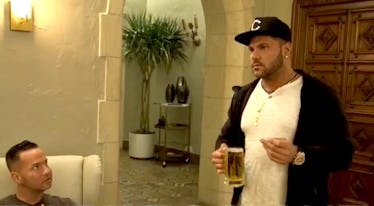 Ronnie's Girlfriend Is Coming To 'Jersey Shore Family Vacation' & Not For A Good Reason
MTV
Okay, I'll just say it: Jersey Shore Family Vacation would be so boring if Ronnie weren't in that house. I mean, the Situation is sober and stays out of trouble, Snooki, JWoww, and Deena are all married and settled down, and Pauly D and Vinny have cleaned up their partying to be less messy. But Ronnie... Ronnie is a different story. Even though he has a pregnant girlfriend waiting for him at home, Ronnie is just as sloppy as he ever was. The latest episode ended with potentially relationship-ending news, so fans might be wondering: Are Ronnie and Jen still together after Jersey Shore Family Vacation? Despite Ronnie's televised mess-ups, it looks like he and his girlfriend have worked through the drama.
UPDATE: According to a report from E! News on April 30, Ronnie Magro and Jen Harley have broken up. Elite Daily reached out to Magro's team for comment on the report but did not hear back by the time of publication.
EARLIER: When the very first episode of Jersey Shore Family Vacation premiered, Ronnie definitely seemed like he was going to be in the most trouble because of this show. Every member of the cast (except Pauly D) was going into this series with either a spouse or a serious significant other at home, so it sounded like the endless stream of hookups that defined the original Jersey Shore was going to run dry in Family Vacation. Ronnie reopened the dam. Last week, Ronnie brought home a French woman that he met at a nightclub, and after closing the door to his room with her, the camera picked up on some very suspect noises. Luckily, Pauly D was able to intervene and get it through Ronnie's alcohol-soaked skull that he should not cheat on his pregnant girlfriend, but the damage may already be done.
Throughout the rest of the fifth Jersey Shore Family Vacation episode, aptly titled "About Last Night," Ronnie attempts to call his girlfriend, Jen Harley, but his calls continue to be rejected. Finally, at the very end of the episode, Mike's girlfriend, Lauren, is able to shed some light on why Ron is getting the cold shoulder. Lauren tells Mike that there was apparently an Instagram account that posted photos and updates about the Jersey Shore cast while filming in Miami, and that account caught some questionable shots of Ronnie from the nightclub the night before:
There's a couple videos of Ronnie dancing with a blonde girl in a see-through black dress.
Apparently, commenters were tagging Jen Harley in the post in order to show her the videos of Ronnie grinding on that French woman. Mike relays that information to Ronnie, and Ronnie instantly realized why Jen is ignoring his calls: she knows about the girl that he may have cheated on her with.
And you guys — it is really about to hit the fan next week! In the promo for the upcoming episode of Jersey Shore Family Vacation, Ronnie tells the house that Jen is coming down to Miami for a visit, and Pauly D instantly starts cracking jokes about french fries — the nickname they gave the French woman that Ronnie took home. Something tells me that Jen is not making the trip down to the Family Vacation house to kiss and make up with her cheating boyfriend.
But, that whole drama seems to be squashed nowadays. A couple of weeks ago, Jen gave birth to her and Ronnie's baby, and the couple is still together as we speak. In the end, the whole cheating controversy may have just been for the MTV cameras. As Ronnie said in an interview before Jersey Shore Family Vacation premiered, he went into the house with the intention of creating exciting reality television, and actually never cheated on Jen in the midst of his quest to provide us with quality drama.