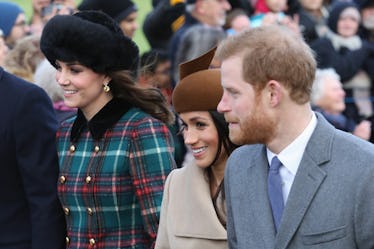 These Details About Meghan Markle & Kate Middleton's Friendship Will Melt Your Heart
Chris Jackson/Getty Images Entertainment/Getty Images
Honestly, it would make a lot of sense if Meghan Markle and Kate Middleton have a great friendship. Think about it. Both women married into royalty and lived – for all intents and purposes – very "normal" lives before meeting their respective princes. I bet Middleton is loving having someone else to gossip with when the Queen gets all huffy and puffy. (I don't know, I assume queens do that.) TBH, it's great to hear reports that Markle and Middleton have an awesome bond. Royal girl power, AMIRIGHT?
E! News is calling Prince William, Kate Middleton, Prince Harry, and Meghan Markle the new "fab four," and I love that. For years, Harry was marked as the third wheel when he would step out with William and Middleton. Plus, Middleton carried the brunt of public scrutiny and gossip as the outsider who married into the family. In fact, she's probably the only person on the whole planet who knows what it feels like to be Markle right now.
Even though Markle's made it clear she's up for the challenge, I imagine there are a lot of details that come with marrying a royal family member she didn't see coming. The most obvious change looks like the sheer lack of privacy and endless, piling amount of social expectations. Luckily, Markle is used to being in front of the camera, thanks to her previous acting career. Middleton, however, was much less accustomed to fame at the time of her marriage. ss
E! News claims Middleton and Harry have a great relationship, and that she's even given Harry dating advice in the past. She was also the first person he introduced Markle to, even before his own brother. A source told E! Markle and Middleton met in January of 2017 and it, "went very well. Kate was delighted to finally get to meet the woman that had Harry smiling so much."
Prince Harry recounted introducing Markle to his brother and sister-in-law in his and Markle's first interview as an engaged couple. He told BBC,
I'd been seeing her for a period of time when I literally didn't tell anybody at all. And then William was longing to meet her and so was Catherine, so you know being our neighbors, we managed to get that in a couple of — well, quite a few times now, and Catherine has been absolutely... amazing, as has William as well, you know, fantastic support.
Another source says Middleton has been careful to not overwhelm Markle with advice, and is more there for her as a support system while she navigates this new world. The insider said, "...very early on she [Middleton] made it clear that should Meghan ever need something, or just want to chat, she shouldn't hesitate to get in touch."
They added,
Kate knows how difficult it is navigating one's way through this very different world. [And] it was important to [Harry] that Meghan and Kate got to know each other, as she has experienced many of the challenges Meghan now faces.
It's an exciting time and it's going to be really interesting what they do together as a four in the future. There's a lot of buzz across the [Kensington Palace] household.
A palace insider also spoke about how the family is working together to make Markle's transition smooth for everyone. The insider said,
It's becoming very clear within the family that William, Catherine, Harry, and Meghan are the future of the royal family so everything rests on making sure Meghan eases naturally into her role. That's a big priority for everyone.
Catherine did it and so they know it's possible for an outsider, without any prior interactions with the establishment, to integrate well. Catherine is very aware that Meghan will need a friend alongside her while she gets used to the way things are done around here.
Man. The idea of Markle and Middleton having afternoon tea after their royal blowouts and mani-pedis sounds like a dream. I'm sure that's how their day-to-day life looks, right?
Check out the entire Gen Why series and other videos on Facebook and the Bustle app across Apple TV, Roku, and Amazon Fire TV.