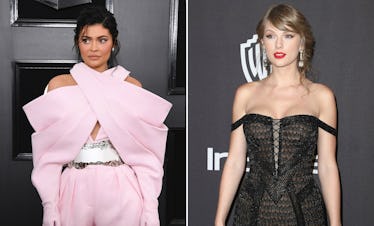 Kylie Jenner Named Her Lip Kits After Taylor Swift Songs, But Are They Friends?
Jon Kopaloff/Getty Images Entertainment/Getty Images & Rich Fury/Getty Images Entertainment/Getty Images
In a world where Kanye West's arch nemesis Drake collaborates with West's essential brother-in-law Travis Scott, who's to say it's not possible that Kylie Jenner and Taylor Swift hang out, too, sometimes? I know that sounds like an outrageous reach, but is anything off limits when it comes to this family? People are quietly asking the question, "Are Kylie Jenner and Taylor Swift friends?" thanks to a few key choice names on Jenner's most recent lip kit collection. The short answer is probably not. The long answer is: I mean, probably not, who really knows what's going on in Hollywood, but based on Jenner's long familial feud with Swift, and the fact that no evidence suggests otherwise, I assume they aren't friends.
Let's walk it back, shall we?
The year is 2009. Taylor Swift just won the MTV Video Music Award for Best Female Video for her song "You Belong With Me," and Kanye West famously was not having it. He jumped up on stage, gave his whole "Imma let you finish" speech, and the undying drama between Kanye West, Taylor Swift, and the Kardashians was born.
Over the years, there were unsuccessful attempts at reconciliation, and everything came to a major head when West rapped the lyrics "I made that b*tch famous" in reference to Swift in his song "Famous." This, understandably, was not awesome for Swift. Kim Kardashian felt like Swift was pulling a "victim" card, and released footage of Swift and West discussing the lyrics on the phone where she appeared to approve some lyrics from the song. But Swift claimed she never approved the word "b*tch" and was all, "I would very much like to be removed from this narrative," about it. Then she went and made her whole Reputation tour theme about snakes, which Kim famously started calling her via emojis on Instagram.
Still with me?
Meanwhile, Kylie Jenner is over here low-key building a major cosmetics empire and about to be named 2018 Forbes' Youngest Self-Made Billionaire.
OK, OK, OK. Now it's 2019 and Jenner just dropped her latest lip kit for Valentine's Day. Everyone's basically flipping their sh*t because, in her Forever Set, Jenner named not one but two products the same titles as two major Taylor Swift songs.
Scuse' me! Hello?!
Jenner called one lip liner "Forever and Always" and a gloss "Story of Us."
If you recall, "Forever & Always" is a sweet little ditty on Swift's album Fearless, and "The Story Of Us" comes from her Speak Now record.
People on Twitter were not about to let the coincidence slide without drumming up some solid Swift-related conspiracy theories.
As much as I looove to think this is some subtle shade and/or a Kylie + Taylor tribute, I think it's most likely just a coincidence. Both of the phrases in question are super common when it comes to love, which is the theme of both Jenner's lip kits and most of Swift's early music. Now, if Jenner named a red color "Bad Blood" that might be a totally different thing.
All of this to say, the chances of Swift and Jenner buddying up anytime soon are super unlikely.
But hey, stranger things have happened. Like, say, those reports that Kylie's bestie Jordyn Woods reportedly hooked up with Tristan Thompson. Basically, Hollywood is a shocking and unpredictable place.