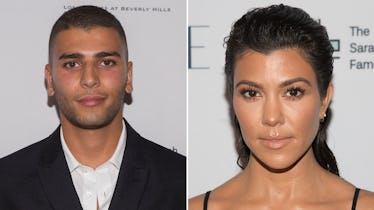 This Kourtney K & Younes Bendjima Relationship Update Has Fans Thinking They've Reconciled
Gabriel Olsen/Getty Images Entertainment/Getty Images
Quit playing games with my heart, Kourtney Kardashian! The oldest Kardashian sister recently ended her relationship with her long-term boyfriend Younes Bendjima, but new photos suggest they might be hanging out again. It leaves fans wondering — are Kourtney Kardashian and Younes Bendjima back together? It's hard to say with no social media confirmation, but paparazzi did catch them driving together. Unless he was dropping off a box of her sweatshirts from his house or something, I'm not really sure what else they would be doing together. Elite Daily reached out to both Kardashian and Bendjima's team for comment on the current status of their relationship but did not hear back by the time of publication.
The photo was captured outside of a Malibu sushi restaurant on Labor Day. TMZ reports it's unclear if they actually had dinner together or just met up afterward, but they spent time sitting and talking in Kardashian's car. When they ultimately drove away together, Bendjima was the one behind the Range Rover wheel.
Hm, hm, hm.
Bendjima and Kardashian first met in 2016 during the same weekend of Kim Kardashian's Paris robbery. After that, Kourt was slow to introduce their relationship to fans and memorably took care to leave Bendjima out of Keeping Up With The Kardashians Season 14's production. Now, he's slowly but surely beginning to pop up in conversation on camera in Season 15, and fans are delighted to peek further behind the relationship curtain.
It seemed things first began to take a public dive for the two celebs when Bendjima left a judgmental comment on a bikini photo Kourtney shared on July 16. He wrote, "That's what you need to show to get likes?" Shortly after, he deleted the comment. However, based on reports, it sounds like they may have already called it quits by then. An insider told TMZ Kardashian reportedly broke up with Bendjima by the second week in July, which may have prompted his rude comment in the first place.
At the time, before the public knew about the breakup, a source told E! News Kourtney was reportedly not into for Bendjima's immature behavior. The insider said,
Kourtney doesn't appreciate Younes posting his feelings in a public forum and being impulsive. She's frustrated that he continues to get upset about it. She isn't going to stop doing what she's doing and feels like he needs to understand and deal with it … Younes gets jealous and can be possessive of Kourtney. When she posts half naked pictures, he gets very upset. He wants her for himself and doesn't want to share her with the world.
What a plot twist that they're now back to driving around together, right? Both celebrities attended the famous Malibu Chili Cook-Off over the holiday weekend, too. However, in that case, they managed to avoid each other and attended the event on separate days.
Still, nothing is confirmed, so fans will have to continue to sweat this one out. But then again, what else is new when it comes to this relationship?