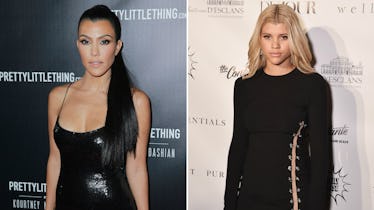 Sofia Richie & Kourtney K Dodged Each Other At A Cookout & Scott Disick Was Nowhere To Be Found
Rich Fury & Bryan Bedder/Getty Images Entertainment/Getty Images
I don't really know anything about being famous, but it seems to me like the celebrity social circle is very, very small. You'd think with celebrities' access to things like travel, money, and the ability to break the rules, it'd be easy to avoid each other if they wanted to. Still, somehow, Sofia Richie and Kourtney Kardashian attended the same cookout in Malibu, California, on the same day, at the same time, even though Scott Disick was nowhere to be found. Small world, right?
It's not that Richie and Kardashian openly have bad blood or anything, it's just the thing that links them is very, very specific. Richie is currently in a serious relationship with Disick, who is obviously Kardashian's ex-boyfriend and father to her three children. Understandably, this makes the women's dynamic somewhat complicated. (It probably doesn't help that Richie is nearly 20 years younger than Kardashian, either.) According to various reports, Richie and Kardashian stepped out to the famous Malibu Chili Cook-Off on Saturday, Sept. 1. E! News reports they were both similarly dressed, too. Not that it matters what they were wearing (white tank tops, btw). It's just one of those weird coincidences. Disick was nowhere in sight and the two women seemed to avoid each other the entire day. Kardashian was there with her kids and friend, Larsa Pippen.
In the past, sources have claimed Kardashian has actually given Richie her blessing to hang out with her children. In May 2018, an insider told People magazine,
It helps that Kourtney now trusts Sofia. The kids are allowed to spend time with her. Sofia likes having them and helps Scott. So far, the kids are giving Kourtney good reports about Sofia.
For example, Richie recently went on a trip to St. Barts for Disick's 35th birthday with his kids Mason, 8, Penelope, 6, and Reign, 3. "Sofia is helping Scott be a better, healthier person," the source added. "Kourtney feels confident that Scott and Sofia takes [sic] good care of the kids. Scott is a great dad when he has his life together."
It also sounds like Richie wasn't the only person Kardashian managed to avoid at the star-studded cook-off.
Just one day prior to Kardashian's visit, her ex-boyfriend, Younes Bendjima, popped by the event, too. While Bendjima managed to get in and out before Kardashian arrived the following day, Caitlyn Jenner was in attendance on the same day as her former step-daughter. Reportedly, Caitlyn was there supporting her son Brandon Jenner who was performing at the cook-off. No one spotted Caitlyn and Kourtney speaking or together at any time, either.
See what I mean? SMALL WORLD! According to E!, the event ran all Labor Day weekend and benefited the Boys & Girls Club of Malibu.
Fans are getting caught up on all of the social dynamics during the current season of Keeping Up With The Kardashians, and so far, it's been pretty epic. Hopefully, more details about Disick and Richie's relationship and Kardashian and Bendjima's romance will be revealed, soon.