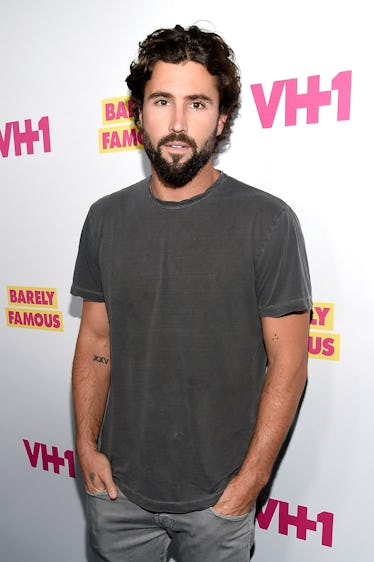 Brody Jenner Broke His Silence On Caitlyn Skipping His Wedding With A Shady AF Response
Frazer Harrison/Getty Images Entertainment/Getty Images
Getting married is a huge deal. It's a milestone in a relationship and in life in general. So, naturally, anyone who's about to tie the knot would want their parents and siblings to be there on the big day. But, what if your family just didn't show up? How disappointed would you be? Well, Brody Jenner was supremely disappointed that Caitlyn Jenner didn't show up for his wedding, which took place this past weekend on Saturday, June 2. Actually, Brody Jenner's response to Caitlyn Jenner skipping his wedding is brutal.
Jenner, 34, recently opened up to People about his wedding to wife Kaitlynn Carter. The two tied the knot at Nihi Sumba Resort on Sumba island, which is just off the coast of Indonesia. Unfortunately for the newlyweds, Jenner's dad couldn't make it and he was really disappointed about her not showing up:
It was a big disappointment. Especially considering that she had known about the wedding for a year.
While Jenner felt the sting of his dad missing such an important moment of his life, he wasn't exactly surprised by it:
I wasn't surprised. I'm pretty used to her doing that sort of thing.
Wow, that's rough. It must be awful to have family woes put a damper on what should be a happy occasion. But, by all accounts, Jenner's relationship with his dad is just fine. It's just that Caitlyn had other things to do.
Like attend the 2018 Life Ball in Vienna, Austria. The Life Ball is Europe's largest HIV/AIDS charity event and attracts huge names. This year's guest list included Paris Jackson, Kelly Osbourne, and, of course, Caitlyn Jenner.
So, at the very least, Caitlyn didn't miss her son's wedding for no reason at all. She was simply out of the country, lending her face and name to an important cause, which is always wonderful to hear. Still, I'm sure some family time at the wedding would have been nice, too.
Despite not attending her son's wedding, Caitlyn did go to the bridal shower back in April 2018. She apparently had a blast, posting the following image and caption on Instagram:
Went to my first bridal shower, for Brody's fiancé Kaitlynn Carter. I had so much fun! PS so much better than Bachelor parties!
In any case, Caitlyn wasn't the only Jenner who didn't show up for the wedding. Kendall and Kylie Jenner were also no-shows, even though their brother invited them.
Here's what he told People about it:
My two little sisters, we never even heard from them. They never even RSVP'd I don't think. We sent them an invite but we never heard back. I would have loved to have had them there.
Gosh, that just makes me so sad. There's nothing quite like the bond between siblings, and to have that missing on your wedding day must be a bitter pill to swallow.
But, all the family weirdness aside, Jenner is now happily married and I'm sure he couldn't be more ecstatic about it.
Jenner proposed to his longtime girlfriend back in May 2016. At the time, Jenner posted about the proposal and subsequent engagement on Instagram with the following message:
On May 4th 2016 I got engaged to my lover and my best friend @kaitlynn_carter. I couldn't be more in love with this woman and I can't wait to spend the rest of my life with her. 💍👰❤️🎉🎊
And here's the lovely photo he posted along with it:
Aw, that's such a sweet photo! It's great to see that Jenner and his new wife have begun a new chapter of their lives together. Good luck to them!