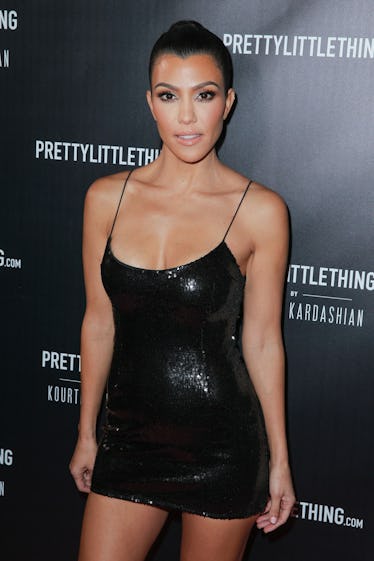 Kourtney K's Latest Instagram About Detoxing May Be Subtly Shading Younes Bendjima
Rich Fury/Getty Images Entertainment/Getty Images
Kourtney Kardashian is not letting her reported split from Younes Bendjima get her down. Nope. In fact, she's letting everyone know just how over it she really is via Instagram. Kourtney Kardashian's "Detox" Instagram post could actually be shading her ex-boyfriend and everyone is cheering her on from the sidelines.
In her latest Instagram post, Kardashian is floating in a hot tub with her arms stretched out and her eyes closed. She looks totally free, relaxed, and unbothered. She added "Detox" as the caption for the photo, prompting everyone to assume that this is her way of moving past her relationship with Bendjima.
The photo, which was posted on Monday, Aug. 13, comes just a week after Us Weekly reported that Kardashian and Bendjima called it quits. It seems like they didn't exactly see eye to eye. An insider source for Us Weekly said as much:
There's little chance of Kourtney and Younes getting back together. He'd have to grow up. There were a number of reasons it didn't work, but at the end of the day the main reason was a maturity issue.
So, now that Kardashian is free of her reportedly childish boyfriend, she can do whatever she wants. And if that means relaxing in a hot tub while living her ultimate best life, so be it. Here's the photo she posted on Instagram:
She looks like she doesn't have a care in the world and that's a great thing, especially since her relationship with Bendjima lasted almost two years and was reportedly pretty serious. She's clearly over the whole thing and ready to cleanse herself of the experience.
The relationship started to go sour a while before reports of their official split made their way to the media. Just a month before, Bendjima came under fire for a rude and unnecessary comment he made on Kardashian's Instagram account.
On July 16, Kardashian posted a photo of herself in a thong bikini. Since the photo revealed most of her backside, it caused quite a stir on social media and Bendjima wasn't having any of it.
"That's what you need to show to get likes?" he wrote in a now deleted comment.
After the controversy died down, a source close to the couple told E! News that Kardashian didn't appreciate Bendjima's attitude:
Kourtney doesn't appreciate Younes posting his feelings in a public forum and being impulsive. She's frustrated that he continues to get upset about it. She isn't going to stop doing what she's doing and feels like he needs to understand and deal with it … Younes gets jealous and can be possessive of Kourtney. When she posts half naked pictures, he gets very upset. He wants her for himself and doesn't want to share her with the world.
Needless to say, the relationship was going downhill for quite some time. Thankfully, Kardashian was seemingly able to get out of the relationship and now she can carry on with her social media photos as she pleases. Detox, indeed!