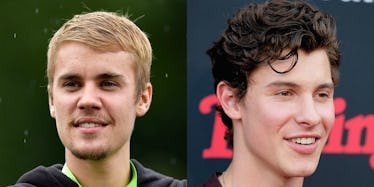 Everything Justin Bieber's Said About Shawn Mendes Proves There May Be No Drama After All
Dimitrios Kambouris/Getty Images Entertainment/Getty Images Stuart Franklin/Getty Images Sport/Getty Images
By now, you're probably well aware that Justin Bieber is super in love with his fiancé, Hailey Baldwin. Mostly because he can't stop talking about it. After a long and gushing engagement announcement via Instagram July 9, the "Sorry" crooner continued to shower social media with PDA-packed snapshots alongside soon-to-be wife. And while Baldwin's reported ex, Shawn Mendes, has publicly wished the couple well, Justin's new track "No Brainer" seems to imply shade towards Mendes. So, now I'm confused. Are Justin Bieber and Shawn Mendes friends?
Baldwin and her "In My Blood" rumored beau never actually confirmed their relationship. In fact, after what seemed like their official couple debut on the Met Gala red carpet, Mendes shot down romance rumors. "We're really good friends," he told W Magazine, just days after the elusive affair. But following the news of Baldwin and Bieb's reunion, Hailey erased all remnants of Mendes from her Instagram. Which really doesn't strike me as a thing you would do to your "good friend."
Prior to Justin Bieber's vacation proposal, but after he and Hailey made out all over Manhattan, Shawn Mendes was asked about the dating rumors. "I don't know if they're dating or not," he told ETALK. "I love them both. They're both really awesome people." Well, it's settled then. Right? When pressed further on the subject in July, Shawn congratulated the newly-engaged couple. While appearing on the Australian talk show, The Project, Mendes revealed:
I texted Hailey the day of, and I said congrats. That's what it is. I think everybody wants there to be more — there's not.
He even credited Bieber as a "massive influence on him growing up." His comments were above and beyond supportive, but then Bieber released "No Brainer" July 27, and suddenly, things were unclear again. The DJ Khaled track, which also features Chance the Rapper and Quavo, includes lyrics like "Him or me, be for real, baby, it's a no-brainer." Ummmm, could this be a reference to Hailey's nearly overlapping relationships? Was there a love triangle? Fans sure think so. The internet went wild over the line and whether it was a Mendes-related diss.
It's also not the first time Bieber has been accused of shading Mendes. When JB was asked about his fellow Ontarian during a 2015 radio interview, he responded, "Who's Shawn Mendes?" Ouch. At the time, Mendes was opening for Taylor Swift's 1989 tour. Translation: He was already a big deal. "I'm definitely a fan of him," Mendes later told BBC1. "I looked up to him for a while, but I guess he just doesn't know who I am. We'll have to let him know." Oh, Shawn, he definitely knows you now.
The pair seemed to strike up a friendship after Bieber gave his music a listen. "Shawn I checked out the music and I'm so proud! So glad to see another boy from Canada crushin it. #canadiansdoitbetter," he wrote on Instagram.
Justin continued on his pro-Mendes kick, tweeting at the "Stitches" singer in 2016, "Shawn Mendes voice makes me smile," and "go get #illuminate @ShawnMendes" in another. The cute exchange seemed like the start of a bromance.
While at Jingle Ball in Atlanta later that year, they documented their hang out, and attempt to out-Canadian each other. "This guy thinks he can beat me in hockey," Justin said on Snapchat. To which Mendes responded, "I could for sure." A little friendly competition, eh?
Despite Hailey's Mendes cleanse on the 'gram, the maybe-exes still follow each other, as do Mendes and Bieber. Besides JB's super-vague song lyric, which TBH could be about anyone, the trio seems to be on good terms. Are they playing nice for the press or are we all just reading into nothing? Time (and a wedding invite) will tell.